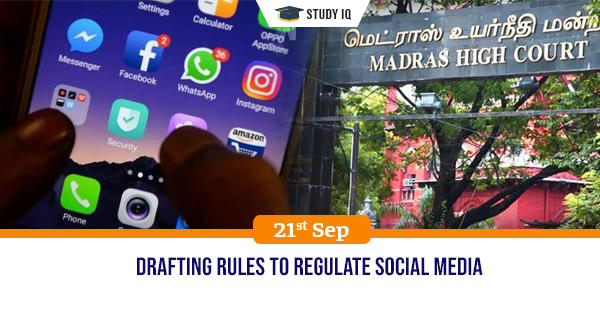 Drafting rules to regulate social media
Date: 21 September 2019
Tags: Science, Technology & Innovation
Issue
The Centre has informed the Madras High Court that deliberations on the Draft Information Technology [Intermediaries Guidelines (Amendment)] Rules, 2018, that mandate social media companies to cooperate with the police in cracking cybercrimes, had been completed.
Background
The social media giants are bound to obey local laws of the country in which they operate and share requisite information with the police. The companies cannot take shelter behind the right to privacy argument.
Details
The rules are expected to solve problems faced by the police in obtaining information from social media firms.

The Centre has said that it is only concerned with cooperation between social media companies and the police and not with the linking of Aadhaar to users' social media accounts.

Individuals had approached the court to obtain an order for linking Aadhaar with social media accounts so that those who indulge in abuses and criminal activities could be identified easily and punished by the law enforcers.

The court instead expanded the scope of the case and suo motu impleaded Facebook, Google, YouTube, Twitter, WhatsApp as parties to the case so that they could be made to cooperate with the local police in cracking cyber crimes by sharing necessary information.