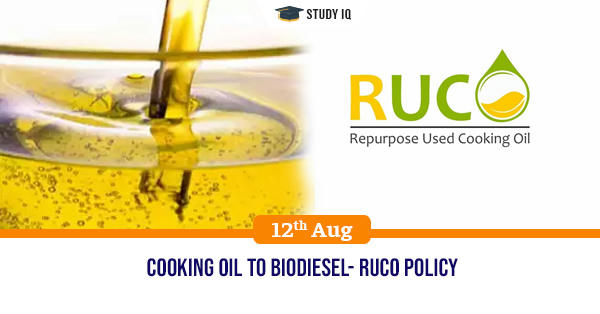 Cooking oil to Biodiesel- RUCO policy
Date: 12 August 2019
Tags: Science, Technology & Innovation
Issue
State-run marketing companies are planning to buy biodiesel made from used cooking oil. This is a major step towards diversifying India's domestic oil policy
Background
India imports 80% of its domestic oil needs in form of crude petroleum oil. This creates large pressure on its domestic finances causing widespread inflation.

By adopting alternative policies to petroleum India is trying to move on to other self-sustaining measure which removes dependence on imports
RUCO Policy
Re-usable cooking oil policy is a unique initiative under which cooking oil used for making food will be collected and converted into usable bio diesel.

This will contribute towards demands for future initiatives in biodiesel manufacturing industries.

Frying oil can be used for cooking food only upto certain extent beyond which it becomes unsuitable for consumption. This unsuitable oil can be used further for other purposes.
Takeaways from RUCO policy
It is a major step towards non-polluting fuel medium that can reduce carbon pollutants significantly.

With lack of bio-diesel producing plants to support bio-diesel policy, this initiative is an alternative towards renewable energy.

Bio fuel produced from vegetable oils, recycled grease, algae and animal fat can be used as an alternative in place of fossil fuels.