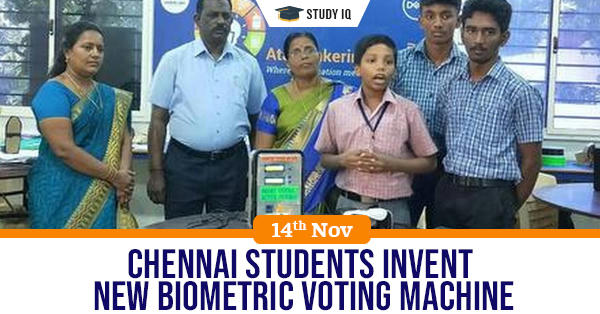 Chennai students invent new biometric voting machine
Date: 14 November 2019
Tags: Science, Technology & Innovation
Issue
A team of students from Chennai have come up with a biometric voting machine that aims to make election process more simple and transparent.
Background
Despite India having a huge population, voter turnouts are much lower than in other countries. Through the Biometric voter machine, people only need to go through a fingerprint or a retinal scan for authentication.
Details
The students said that through this system, a voter needn't go to the specific booth that he has been assigned to, but can vote from any machine since their biometric credentials will be linked to their Aadhaar data.

The biometric voting machine is among the many projects that students in the school have been encouraged to work on, in the Atal Tinkering Lab which has been set up in the school under NITI Aayog's Atal Innovation Mission (AIM).
Atal Innovation Mission (AIM)
The Atal Innovation Mission (AIM) is a flagship initiative set up by the NITI Aayog to promote innovation and entrepreneurship across the length and breadth of the country.

AlM's objectives are to create and promote an ecosystem of innovation and entrepreneurship across the country at school, university, research institutions, MSME and industry levels.
Core functions
Entrepreneurship promotion through Self-Employment and Talent Utilization, wherein innovators would be supported and mentored to become successful entrepreneurs.
Innovation promotion to provide a platform where innovative ideas are generated.
Atal Tinkering Labs
The ATL program is undertaking on-the-ground activities to engage students and teachers in identifying problems in and around their communities and creating innovative solutions leveraging the ATL technologies to achieve the objectives of the program.