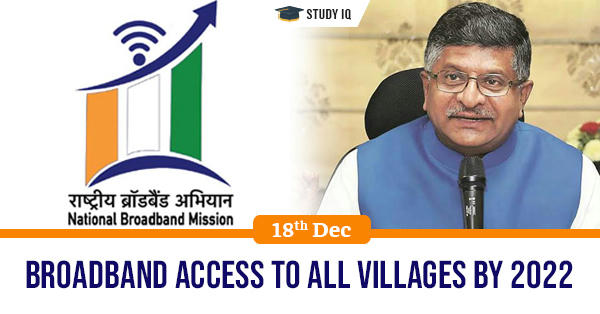 Broadband access to all villages by 2022
Date: 18 December 2019
Tags: Science, Technology & Innovation
Issue
The government has promised broadband access in all villages by 2022, as it launched the ambitious National Broadband Mission.

Background
The mission will facilitate universal and equitable access to broadband services across the country, especially in rural and remote areas

Details
The broadband mission aims to fast-track growth of digital communications infrastructure, bridge the digital divide, facilitate digital empowerment and inclusion, and provide affordable and universal access of broadband for all. It will lay emphasis on universality, affordability and quality of services.

Under the mission, the Centre will work with States and UTs for having consistent policies pertaining to expansion of digital infrastructure including for Right of Way (RoW) approvals required for laying of optical fibre cable.

Additionally, a Broadband Readiness Index will be developed to measure the availability of digital communications infrastructure within a State/UT.
Benefits of broadband connectivity to villages
Broadband access increases educational opportunities in rural areas and supports development of ICT skills.
This preparation enables rural citizens to work from home or find better employment in urban areas, reducing the strain on social services.
Web browsing, e-mail and other online activities can increase labor productivity and lower the cost of gathering market intelligence.
Broadband reduces travel demands and leads to lower carbon emissions and greater overall energy efficiency.
Broadband helps people become more informed and more active in their communities, leading to a better quality of life, and richer personal and business opportunities.