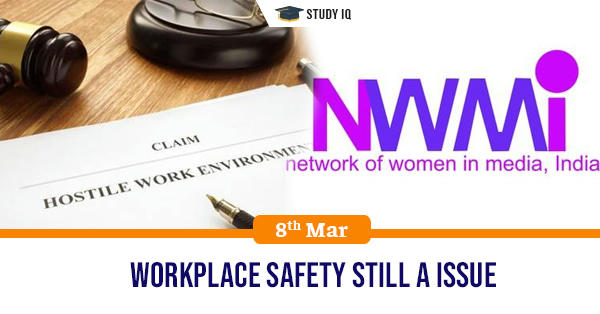 Workplace safety still a issue
Date: 08 March 2020
Tags: Reports & Indices
Issue
A survey report released by the Network of Women in Media, India (NWMI) and Gender at Work said that, over 70% of respondents who had approached an internal committee to report sexual harassment at the workplace were not completely satisfied with the outcome.
Background
The survey had 456 participants, including journalists, journalism educators, trainers and researchers. Most respondents were based in metropolitan centres such as Bengaluru, Chennai, Delhi, Kolkata, Hyderabad and Pune.
Details
The survey found that 36% of all respondents reported having experienced sexual harassment at the workplaces. Of the respondents who experienced such harassment at work, 53% did not report it to anyone.

A small percentage made a report to the internal committee (IC) of their media houses. But 70% of those who made a complaint were not completely satisfied with the outcome, the report found.

Among the women who said that their organisation did not have a mechanism to deal with sexual harassment, 47% had faced sexual harassment.

The survey found that in terms of the kinds of harassment experienced by the respondents, the most common were sexist comments, unwelcome sexual jokes, embarrassing gestures or body language, attempts to establish unwanted romantic and/or sexual relationships, and pestering for dates.

The promise of rewards for compliance, accompanied by threats of mistreatment following a refusal to engage in sexual behaviour, were also reported. In addition, unwanted touching, fondling, sexual assault and rape were documented.