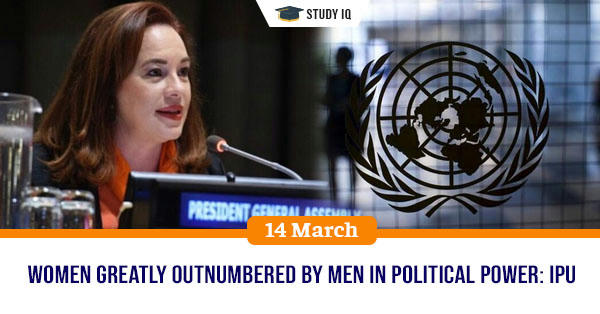 Women greatly outnumbered by men in political power: IPU
Date: 14 March 2019
Tags: Reports & Indices
According to statistics from Inter-Parliamentary Union (IPU), women are totally outnumbered by men in politics, accounting for less than 7% of world's leaders and only 24% of lawmakers.
Findings of IPU Statics
The percentage of female elected heads of state dropped from 7.25 to 6.6

%, i.e.

10 out of 153 from 2017 to 2018.

The percentage of female heads of government dropped from 5.7% to 5.2%, i.e. 10 out of 193 in the same period.

In parliaments, the global share of women had increased by nearly one percentage point to 24.3

%

from 2017 to 2018.

Women parliamentary speakers' share across the world also increased by 0.6 percentage points to 19.7

%. Besides, s

hare of women deputy speakers aslo increased by 1.6 percentage points to 28.2%.

Countries with no women ministers has decreased from 13 in 2017 to 11 in 2018. These 11 countries are Belize, Brunei Darussalam, Azerbaijan, Kiribati, Iraq, Lithuania, Saint Vincent, Papua New Guinea, Grenadines, Saudi Arabia, Thailand and Vanuatu.

Moreover, there is also shift in types of portfolios held by women ministers. More women are now in charge of portfolios traditionally occupied by men.

52.9% more women across the world held Finance minister's portfolio, 30% more women held Defence portfolio and 13.6% more women held Foreign Affair in 2018.

Nine countries have 50% or more women in ministerial positions (up from six in 2017). They are Spain, Nicaragua, Sweden, Albania, Colombia, Costa Rica, Rwanda, Canada and France.
Inter-Parliamentary Union (IPU)
It is global inter-parliamentary institution. It is first permanent forum for political multilateral negotiations.

It was established in 1889 by Frédéric Passy (France) and William Randal Cremer (United Kingdom). It is headquartered Geneva, Switzerland.

National parliaments of 178 countries are its members and 12 regional parliamentary assemblies are associate members.

It has permanent observer status at the United Nations General Assembly (UNGA).