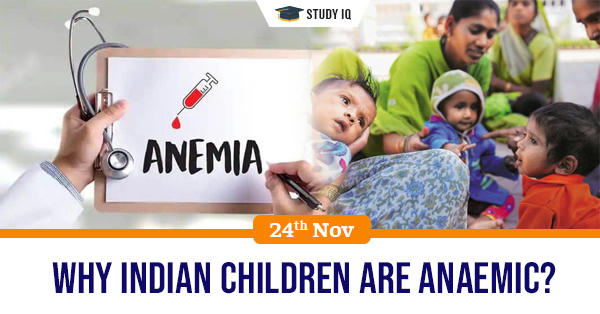 Why Indian children are anaemic?
Date: 24 November 2019
Tags: Reports & Indices
Issue
A paper published in Scientific Reports points out that about 58.5% of children below five years of age in India are anaemic.
Background
Last month, an ad campaign urged Indian women to invest in iron-rich food and focus on whether they were anaemic. Similarly, a Lancet Global Health report noted that 23% of Indian men suffered from anaemia.
Details
The research team analysed over one lakh children using the National Fertility and Health Survey (2015-16) data.

They write that socio-demographic factors including wealth of the family, maternal education, maternal age, type of residence are the main reasons behind the incidence of childhood anaemia.

Maternal education plays a very important role in reducing the incidence of childhood anaemia in any society and indeed in India.

It increases the chances of mothers appreciating the issues involved and taking the correct and appropriate steps towards preventing it.

The study also revealed an inverse relationship between the mother's education and incidence of childhood anaemia in India.

The report notes that even the richest households had anaemic children. While 52.9% of children in the rich households were marked anaemic, the number was 63.2% in the poorest households. Vitamin A and iron intake was also lower than the recommended level.

The study also showed that children of younger mothers are more anaemic. It also reveals the power dimension in the household allocation and use of resources.
Measures
In addition to maternal influence on childhood anaemia, paternal and overall household influences must be considered for a more comprehensive policy framework for intervention at the household level.

The researchers have recommended that work be carried out to bridge the gap between policy and practice. They also call for a broader health strategy, to effectively address this issue.