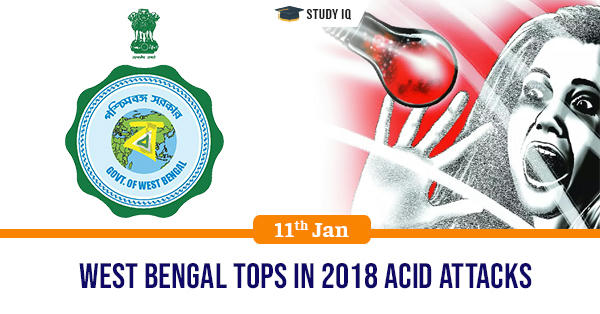 West Bengal tops in 2018 acid attacks
Date: 11 January 2020
Tags: Reports & Indices
Issue
While there has been a marginal decline in the incidents of acid attacks in the country in 2018 compared to the previous year, West Bengal accounted for the highest number of cases of such attacks, according to the National Crime Records Bureau (NRCB) report.
Details
In 2018, 228 incidents of acid attacks were recorded across the country against 240 victims. Of these, West Bengal recorded 50 incidents involving 53 victims.

In 2017, 244 acid attacks were recorded across the country and Bengal came second on the list with 54 incidents of acid attacks, while Uttar Pradesh recorded 56 incidents. Women were the victims in 131 of the 228 attacks accounting for more than 57 % of the cases.

The reason for the high number of attacks has been same for the past five years, which is lack of monitoring of the sale of acid on the part of police and security agencies.

The NCRB data over the past few years points out that two out of every three acid attack victims are women.

Acid attacks are registered under Section 326 A of the Indian Penal Code, with a minimum punishment of 10 years imprisonment.

Compared to 2017 the number of people convicted for acid attacks in 2018 was higher at 28. In 2017, 20 persons (all males) were convicted whereas in 2018 the number was 28 — 23 males and five females.