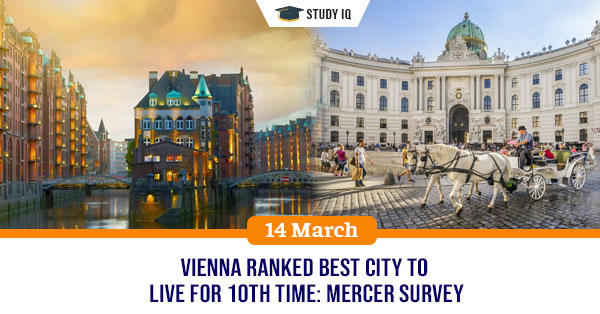 Vienna ranked best city to live for 10th time: Mercer Survey
Date: 14 March 2019
Tags: Reports & Indices
According to Mercer's 21st annual Quality of Living survey 2019, capital of Austria- Vienna has topped the ranking among 231 cities for 10th consecutive year. Seven Indian cities have featured in this list.
Quality of Living survey 2019
Top 10 Cities:

Vienna (Austria), Zurich (Switzerland), Vancouver (Canada), Munich (Germany), Auckland (New Zealand), Dusseldorf (Germany), Frankfurt (Germany), Copenhagan (Denmark), Geneva (Switzerland) and Basel (Switzerland).

Bottom cities:

Baghdad ranked last, followed by Bangui (Central African Republic), Sanaa (Yemen's capital), Caracas (Venezuela's capital).

Indian Cities in list:

Pune (143), Hyderabad (143), Bengaluru (149), Chennai (151), Mumbai (154), Kolkata (160) and New Delhi (162).

Safest countries:

Luxembourg was ranked safest city in the world. In 105th place, Chennai ranks was safest city Asia-Pacific region and Pakistan's Karachi (226) is the least safe.
Mercer's Quality of Living survey
It is conducted annually to rank 231 cities across the world by New York based global human resources consulting firm Mercer.

It aims to help governments and major companies place employees on international assignments.

It ranks cities based on factors such as socio-cultural environment, school and education, medical and health considerations, recreation, housing, economic environment, consumers goods availability, public services and transport, political and social environment and natural environment.

It also identifies those cities with highest personal safety ranking based which analyzes cities internal stability, crime levels, limitations on personal freedom, law enforcement, relationships with other countries and freedom of the press.