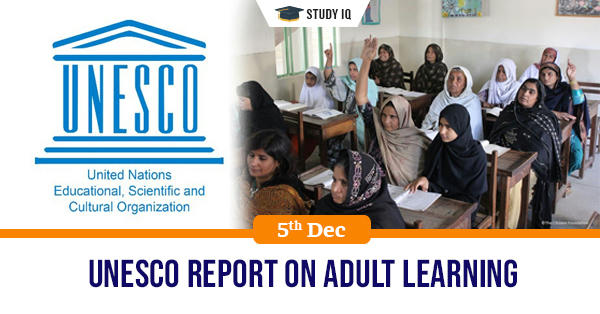 UNESCO report on adult learning
Date: 05 December 2019
Tags: Reports & Indices
Issue
An UNESCO report published by Institute for Lifelong Learning has showed that investments in adult learning and education (ALE) have steadily decreased in the last decade.
Background
The report, published once every three years, combines survey data, policy analysis and case studies to provide policymakers and practitioners with recommendations and examples of good practice.
Details
Adults with disabilities, older adults, refugees and migrants, minority groups and other disadvantaged segments of society are particularly under-represented in adult education programmes and find themselves deprived of crucial access to lifelong learning opportunities.

The UNESCO Global Report on Adult Learning and Education (GRALE) calls for increased investments in ALE from governments, employers and individuals to ensure that everyone has the opportunity to access and benefit from adult learning opportunities.

It reminds member countries that investments in ALE have social, civic and economic benefits.

The report also stresses the need to increase national investment in ALE, reduce participation costs, raise awareness of benefits, and improve data collection and monitoring, particularly for disadvantaged groups.

The report calls for major changes in adult education participation to achieve the United Nations' Sustainable Development Goals by 2030.

The global report shows that women's participation in ALE has increased in 59% of the reporting countries since 2015 but in some parts of the world, girls and women still do not have sufficient access to education, notably to vocational training.

This leaves them with few skills and poor chances of finding employment and contributing to the societies they live in, which also represents an economic loss for their countries.

The UNESCO GRALE monitors whether Member States are putting their international commitments on adult learning and education into practice.
Adult learning
Adult education, distinct from child education, is a practice in which adults engage in systematic and sustained self-educating activities in order to gain new forms of knowledge, skills, attitudes, or values.This is also known as Andragogy.