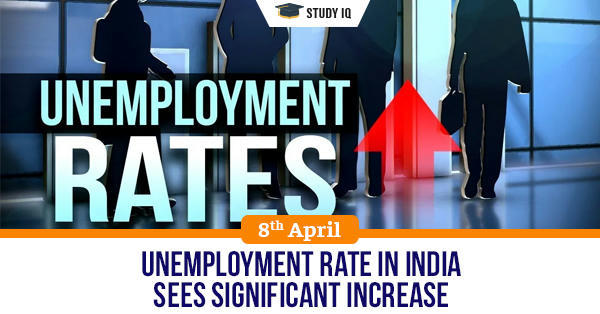 Unemployment rate in India sees significant increase
Date: 08 April 2020
Tags: Reports & Indices
Issue
The Centre for Monitoring Indian Economy (CMIE) has said that the unemployment rate shot up in March. The employment rate in the economy fell to an all-time low of 38.2 percent in March 2020.
Background
With the coronavirus outbreak severely affecting every country, its impact on an already hobbling Indian economy is set to be devastating if the latest data on unemployment rate is taken as an indicator.
Details
The Labour Participation Rate (LPR) in March 2019 was 42.7 percent. This is the first time the LPR has fallen below 42 percent.

The monthly figures from the CMIE that were released recently also show a curious inversion. In urban India, unemployment among the uneducated is at a higher level than those with a graduate degree (13%), for the first time since early-2016.

Most of the people are employed in service sector jobs in construction, repair, or unorganized transport, all of which have come to a standstill due to the current lockdown.

Early estimates from CMIE's weekly tracker indicate that at least 50 million Indians may have lost their jobs in the last two weeks.

The real impact of wage cuts and job losses won't be felt immediately on account of the temporary relief measures announced by the government and the RBI.

The government has unveiled a Rs 1.75 lakh crore welfare package for poor while the RBI announced a series of measures to ease liquidity in the system (to the tune of Rs 3.74 lakh crore).