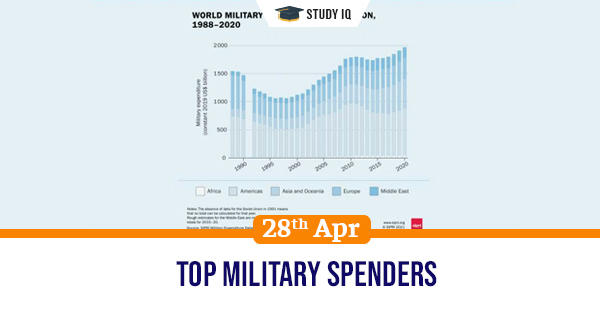 Top military spenders
Date: 28 April 2021
Tags: Reports & Indices
Issue
The Stockholm International Peace Research Institute (SIPRI) has published a report on global military expenditure for the year 2020.
Details
The report has shown that top military spenders such as US, China and India had their expenditure go up from the year 2019.

India's military expenditure was $72.9 billion, China's $252 billion and USA's was $7778 billion. India's growth was 2.1 percent while China's was 1.9 percent and USA's 4.4 percent.

The overall global expenditure grew by 2.6 percent to $1981 billion. This was significant because global economy shrunk by 4.4 percent.
The report
USA's military spending was 3.7 per cent of its GDP while China's and India's were 1.7 per cent and 2.9 per cent respectively.

Military spending in Asia and Oceania grew by 2.5 percent this year due to extra funding by China and India.

Russia, the UK, Saudi Arabia, followed by Germany and France make up the rest of the top military spenders list.

Some of countries reduced their spending by allocating part of the funding for pandemic purposes. These countries include South Korea, Chile and Brazil.
Report on India
Previous reports have said that India's arms imports have come down by a third as the government has been trying to reduce its dependency.

India has remained the second highest importer of arms behind the top leader Saudi Arabia. Top global exporters include USA, Russia, France, Germany and China.

Russia was the most affected country by India's decision to reduce imports as the amount fell by 33 percent. US imports also fell by 46 percent.
SIPRI
SIPRI is an independent international research institute based in Sweden that studies research conflict, arms control, armaments, and disarmament.

The institute receives major part of its funding from the Swedish Parliament as it was established based on its decision.

The institute studies open sources, to policymakers, researchers, media and the interested public to provide data, analysis and recommendations.