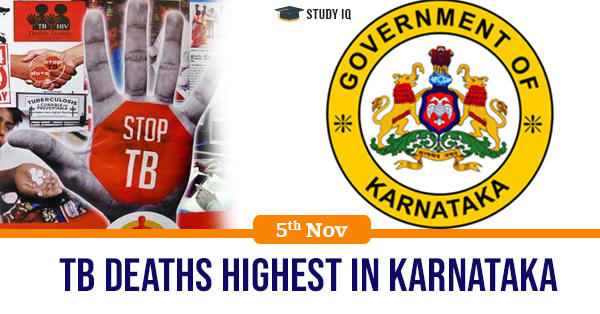 TB deaths highest in Karnataka
Date: 05 November 2019
Tags: Reports & Indices
Issue
At 6.2%, Karnataka has recorded the highest tuberculosis (TB) death rate in the country in 2018. This is higher than the national TB death rate of 4% in public sector.
Background
TB is a notifiable disease in the country since May 2012, for which the government has set up a web-based, case-based notification network called NIKSHAY.
Details
The success rate of treatment in the public sector is 80% is the State. Karnataka is followed by Gujarat, Puducherry, and Tripura that have recorded 6%, 5.5%, and 5.2%.

It was found that those tested for TB in the last one year in the State, 10.3% were HIV positive patients and 70% of patients with TB have a known HIV status. This can be the reason for high rate of death.

The Revised National Tuberculosis Control Programme (RNTCP) has expanded its collaboration with Diabetes and Tobacco Control Programmes and is being further strengthened with cross linkage of services.
Tuberculosis
Tuberculosis (TB) is a potentially serious infectious disease that mainly affects the lungs. The bacteria that cause tuberculosis are spread from one person to another through tiny droplets released into the air via coughs and sneezes.

The most common medications used to treat tuberculosis include:
Isoniazid.

Rifampin (Rifadin, Rimactane)

Ethambutol (Myambutol)

Pyrazinamide
Drug resistance TB
Drug-resistant TB is caused by TB bacteria that are resistant to at least one first-line anti-TB drug.

Multidrug-resistant TB (MDR TB) is resistant to more than one anti-TB drug and at least isoniazid (INH) and rifampin (RIF).