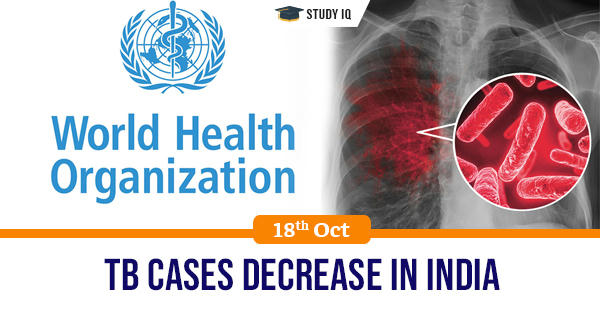 TB cases decrease in India
Date: 18 October 2019
Tags: Reports & Indices
Issue
The tuberculosis incidence rate in India has decreased by almost 50,000 patients over the past one year, according to the World Health Organization (WHO)-2019 edition of the Global Tuberculosis (TB) Report.
Background
The report provides a comprehensive and up-to-date assessment of the TB epidemic and progress in the response at global, regional and country levels for India.
Details
The report notes that in 2017, India had 27.4 lakh TB patients which came down to 26.9 lakh in 2018. Incidence per 1,00,000 population has decreased from 204 in 2017 to 199 in 2018.

The number of patients being tested for rifampicin resistance has increased from 32% in 2017 to 46% in 2018.

The treatment success rate has increased to 81% for new and relapse cases (drug sensitive) in 2017, which was 69% in 2016.

The India TB-Report 2019 notes that India is closest ever to covering all TB cases through the online notification system called NIKSHAY.
Tuberculosis
Tuberculosis (TB) is a disease caused by bacteria that are spread through the air from person to person. If not treated properly, TB disease can be fatal.

The bacteria that cause TB are spread when an infected person coughs or sneezes.

Most people infected with the bacteria that cause tuberculosis don't have symptoms but When they do occur, they usually include a cough (sometimes blood-tinged), weight loss, night sweats and fever.
NIKSHAY
Nikshay is a Tuberculosis control programme, to monitor and track services and status related to screening, diagnosis, treatment and follow-up of Tuberculosis cases.

It alerts TB patient regarding medication, follow-up alerts to the patients and providers etc.