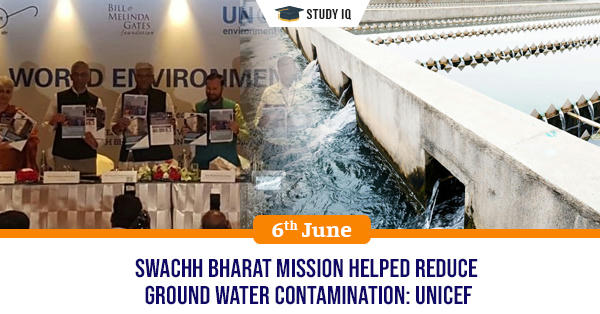 Swachh Bharat Mission helped reduce ground water contamination: UNICEF
Date: 06 June 2019
Tags: Reports & Indices
Recent study conducted by United Nations Children's Fund (UNICEF) has found that 'Swachh Bharat (Grameen)' initiative of the government has helped reduce ground water contamination. It was one of the two independent third-party studies conducted on Swachh Bharat Mission (Grameen) on behalf of Central Government. The other study was commissioned by Bill and Melinda Gates Foundation.
About UNICEF's Study
It was titled Environmental impact of the Swachh Bharat Mission on Water, Soil, and Food. It was aimed at assessing the environmental impact and communication footprint of the Swachh Bharat Mission (Grameen) respectively. Its findings were based on analysis of groundwater samples were collected and studied from ODF and non-ODF villages of Odisha, Bihar and West Bengal.
Key findings of the study
The substantial reductions in ground water contamination may potentially be attributed to the improvement in sanitation and hygiene practices.

Supportive systems such as regular monitoring and behaviour change messaging, which have all been critical aspects of Swachh Bharat Mission (Grameen), also helped reduce ground water contamination.

In terms of faecal contamination, non-ODF villages were on average 11.25 times more likely to have their groundwater sources contaminated (12.7 times more from contaminants traceable to humans alone), 1.48 times more likely to have food contaminated, 1.13 times more likely to have their soil contaminated and 2.68 times more likely to have household drinking water contaminated.
Swachh Bharat Mission
It was launched in October 2014 to achieve universal sanitation coverage and to put focus on sanitation.

Objective:

Make India clean by 2019, as fitting tribute to 150th Birth Anniversary of Mahatma Gandhi.

Feature:

It world's largest sanitation program that aimed bring behavioural change of people with respect to toilet access and usage.

Two sub-missions:

Swachh Bharat Mission (Gramin), implemented in rural areas, and Swachh Bharat Mission (Urban), implemented in urban areas.

SBM-G:

It aims to eliminate open defecation in rural areas by improving access to sanitation by ensuring use of toilets, besides their construction.

It also seeks to generate awareness to motivate communities to adopt sustainable sanitation practices, and encourage the use of appropriate technologies for sanitation.

Present Status:

the mission is in the final stretch of its completion with 30 States/Union Territories already have been declared open defecation free (ODF). According to Ministry of Drinking Water and Sanitation, Rural sanitation coverage in the country had crossed the 99

%

% mark. Now, it is focusing on extending momentum to the ODF-plus phase in solid and liquid waste management.

Impact:

WHO 2018 study had estimated that Swachh Bharat Mission will save over 3 lakh lives by the time India is Open Defacation Free.