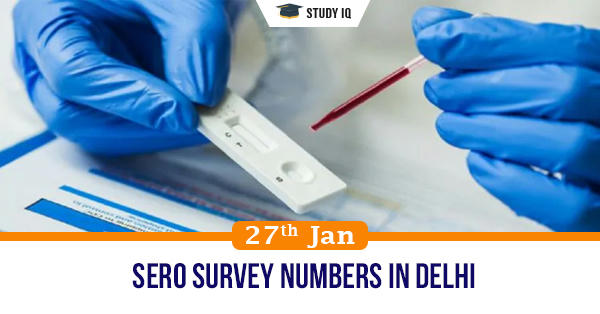 Sero survey numbers in Delhi
Date: 27 January 2021
Tags: Reports & Indices
Issue
The initial findings of the fifth round of serological survey conducted in Delhi suggests that over 50 percent of the people who were surveyed during the exercise have developed antibodies against Covid-19.
Background
Five serological surveys have been carried out in Delhi so far, including the present one, which was conducted in January.
Details
The result of the latest serosurvey has led researchers and experts to summarise that a large section of the city's population has already developed antibodies against Covid-19.

The presence of antibodies among a large percentage of the population could be a reason for the decline in the daily number of Covid-19 cases.

As more people are able to resist infection, it will help to break the chain of transmission of the virus.
Significance
Carrying out repeated serological surveillance on the same population gives an idea of how the disease is behaving.

Many researchers believe that if 60 percent or more of the population has developed antibodies against Covid-19, there is a possibility of acquiring herd immunity.

The state health department plans to continue with carrying out the serological surveys at regular intervals until such time when a large proportion of the city's population has developed antibodies against the virus.
Herd immunity
Herd immunity is a form of indirect protection from infectious disease that can occur when a sufficient percentage of a population has become immune to an infection, whether through vaccination or previous infections, thereby reducing the likelihood of infection for individuals who lack immunity.

Immune individuals are unlikely to contribute to disease transmission, disrupting chains of infection, which stops or slows the spread of disease.

The greater the proportion of immune individuals in a community, the smaller the probability that non-immune individuals will come into contact with an infectious individual.