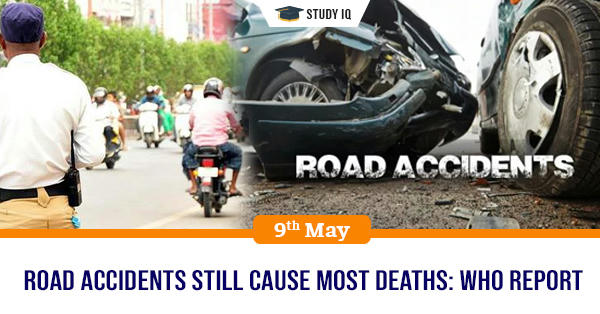 Road accidents still cause most deaths: WHO report
Date: 09 May 2019
Tags: Reports & Indices
According to recently released World Health Organisation (WHO) report, road accidents are the leading cause of death among people in the 5-29 age-group worldwide. The report was released during global road safety week, observed from 6 to 12 May, 2019.
This year it was fifth edition of United Nations Global Road Safety Week. It had focused on leadership for road safety. Its campaign theme was: Save Lives - #SpeakUp.
Key Findings of the report
Road accidents are leading cause of death among people in the 5-29 age-group worldwide. More than 1.35 million lives are lost each year and 50 million sustaining injuries.
Since 2008, India is world number one in road crash deaths, inspite of being signatory to Brasilia Declaration on Road Safety.
As per Government data, road accidents killed close to 1,50,000 people each year in India. However, WHO claims that over 2,99,000 people are being killed in India each year.
The reasons of road accidents are rapid urbanisation, poor safety, lack of enforcement, distracted, influence of drugs or alcohol, speeding and failure to wear seat-belts or helmets.
Significance of Report
It shows that road crashes have emerged as single biggest killer of people in the age group of 15-45, making it a major pandemic. Strong political will and leadership is need of the hour to address the issue. Existing road safety enforcement systems are outdated and needs urgent revision to meet needs of present times.
Brasilia Declaration on Road Safety
It was adopted at 2nd Global High-Level Conference on Road Safety hosted by Brazil and WHO in November 2015. It calls for member countries to reduce the number of road accidents and deaths to half by the year 2020. India had signed this declaration in 2015.