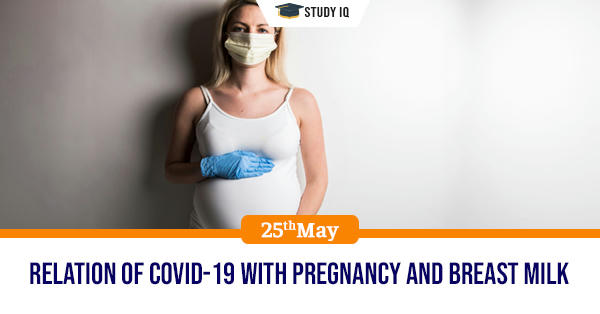 Relation of COVID-19 with pregnancy and breast milk
Date: 25 May 2020
Tags: Reports & Indices
Issue
Research is on to determine the answers to many questions such as why pregnant women more at risk from Covid-19 and in what ways can mothers pass on the coronavirus to their newborn.
Background
A recent study published has examined the milk from two nursing mothers infected with SARS-CoV-2. The researchers found SARS-CoV-2 RNA in the second mother for four consecutive days.
Details
The US Centers for Disease Prevention and Control (CDC) maintains that if a Covid-19 patient chooses to breastfeed her child, she should wear a facemask while doing so and wash her hands before each feeding. Further, she should use a dedicated breast pump and follow recommendations for proper pump cleaning.

The mother-to-child transmission (vertical transmission) of Covid-19 is unlikely. However, after birth, a newborn can be infected after being in close contact with an infected person, including the baby's mother or other caregivers.

Pregnant women are at a higher risk of developing more severe illness from Covid-19, as pregnancy weakens the immune system.

Another reason that pregnant women may develop more severe outcomes is because during pregnancy, the upper respiratory tract tends to be swollen due to high levels of oestrogen and progesterone and restricted lung expansion, which may make such women susceptible to respiratory pathogens.

While it cannot be said for certain if breastmilk with virus RNA can go on to infect newborns who consume it, the finding adds to the emerging evidence about the possible locations where virus RNA can be found.