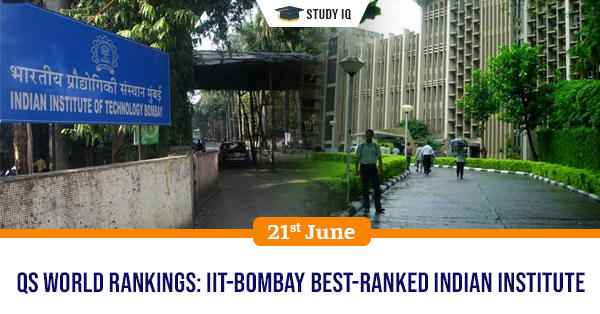 QS World Rankings: IIT-Bombay best-ranked Indian institute
Date: 21 June 2019
Tags: Reports & Indices
Indian Institute of Technology, Bombay (IIT-Bombay) was ranked number one in list of Indian universities releseased as part of QS World University Rankings 2020. Globally it was ranked 152nd position. This for third consective time IIT-Bombay has been securing top position among all Indian institutes for and overall it has improved its glaobal rank by 10 moving up places from 2018 ranking.
QS World University Rankings
It is published annually by global higher education consultancy Quacquarelli Symonds (QS). It was launched in 2004. It is one of the two most sought after rankings for educational institutes globally.

It ranks the world's top 1,000 universities. It also gives subject rankings in 48 different subjects and five composite faculty areas of the universities, as well as for graduate employability and various other aspects.
Key Higlights of 2020 QS rankings
US based Massachusetts Institute of Technology (MIT) was placed on top of the global list for the eighth consecutive year.

23 Indian universities are in world top 1,000. There were 24 in last year's rankings. Out of the 23, nine Indian instituetes are in the top 500, including seven IITs.

IIT Bombay was placed at number one in the list of Indian universities for the second consecutive year. It was globally ranked at 152.

IISc has scored world's second best score on research impact, but dropped in overall ranking. It is first Indian institution to see its research cited more than 100,000 times in five-year period.

Manipal Academy of Higher Education was top private university in the country in the list, which falls within the 701-750 ranking band,

Amity University and University of Hyderabad have dropped out from India in this edition of rankings, while O P Jindal Global University is a new entrant.