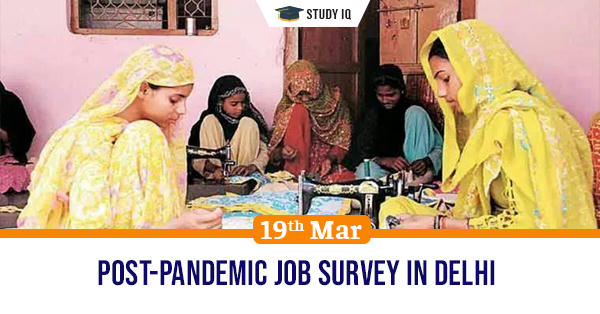 Post-pandemic job survey in Delhi
Date: 19 March 2021
Tags: Reports & Indices
Issue
The Delhi government's employment survey has identified the severity of the job crisis plaguing the national capital.
Background
The survey was carried out during September-November 2020 and has tried to capture effects of pandemic and the consequent lockdown.
Details
The report was prepared by the Delhi Directorate of Economics and Statistics and the Centre for Market Research and Social Development.

The survey has found a sharp growth in the unemployment rate of Delhi, which has jumped from existing 11.1 per cent in January-February 2020 to 28.5 per cent in October-November

The survey has identified a concerning fact of drastic dip in the share of women in the workforce. The list also includes large number of percentage of graduates and postgraduates.

A rise of 17.4 percentage points within eight months was observed during the period of lockdown and unlock.

The Delhi government has not undertaken any such focused study to find the level of employment and unemployment in the city before.
Observations
The survey identified that the pandemic and the lockdown has given a severe blow to the share of women in the workforce. This has pushed unemployment rate in this category to 54.7 per cent from 25.6 per cent.

Among the 83 per cent women unemployed and unavailable for work, 16.6 per cent are graduates, 27.6 per cent have passed Class 12 and 23.8 per cent have studied till Class 10.

Employed individuals earning less than Rs 5,000 a month in January-February was about 7 percent.

The share rose to 13 per cent by October and the share of people earning between Rs 10,000 and Rs 15,000 a month has fallen from 30 per cent to 20 per cent.

Employed respondents found engaged in jobs with regular wages in the private sector was 20 percent, seven per cent of individuals were casual labourers, and two per cent each in the government and agriculture sector.
Labour force
The labour force is a set of people who are of working age, and able and willing to work. The labour force includes both the employed, and the unemployed.