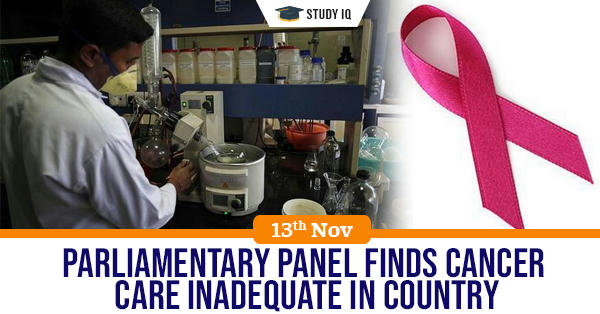 Parliamentary panel finds cancer care inadequate in country
Date: 13 November 2019
Tags: Reports & Indices
Issue
Parliamentary Standing Committee on Science, Technology and Environment has found out that systematic failure to address the needs of patients contributes to a 20% higher mortality among Indian cancer patients than in countries with a high Human Development Index.
Background
The committee was constituted to examine an expanded role for the Department of Atomic Energy, through the Tata Memorial Centre (TMC), to address India's rising cancer burden. The committee is led by former Union Environment Minister Jairam Ramesh.
Details
The Committee laid emphasis on the fact that mortality to incidence ratio of 0.68 in India is higher than that in very high human development index (HDI) countries (0.38) and high HDI countries (0.57).

The International Agency for Research on Cancer expects India's cancer burden to increase from an estimated incidence of 13 lakh cases in 2018 to about 17 lakh in 2035, and cancer deaths expected to rise from 8.8 lakh in 2018 to 13 lakh in 2035.

The committee discovered that the incidence of cancer is very high in all North Eastern States, as it is higher than the national average for several types of cancer, showing a consistently rising trend over the past few decades.

Two-thirds of India's cancer patients were treated in the private sector and this forced 6 crore Indians below the poverty line because of catastrophic healthcare related expenditure on cancer.

The committee recommended a 'Hub and Spoke Model' proposed by the TMC (Tata Memorial Centre) to better reach out to cancer patients nationally. This approach which is already in practice in Punjab has a network of centres, or hubs, capable of treating complex forms of cancer.
They would be connected to other centres (spokes) capable of treating less complex variants of cancers. The idea is to ease access and minimise travel times for patients.