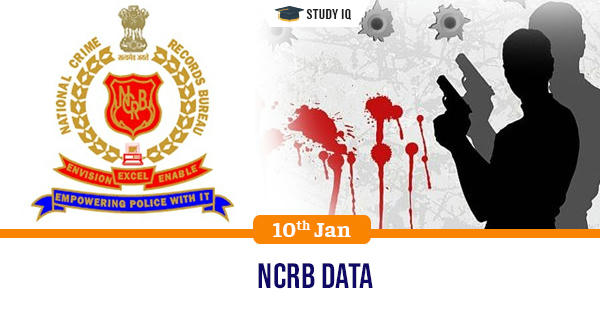 NCRB data
Date: 10 January 2020
Tags: Reports & Indices
Issue
Crime in India has increased by 1.3% in 2018 compared to 2017 with the registration of over 50 lakh cognisable crimes, according to 2018 edition of 'Crime in India' statistics released this week by the National Crime Records Bureau (NCRB).
Background
The National Crime Records Bureau is an Indian government agency responsible for collecting and analysing crime data as defined by the Indian Penal Code and Special and Local Laws. NCRB is headquartered in New Delhi and is part of the Ministry of Home Affairs, Government of India.
Details
The report says that there was an overall rise of 1.3% in the registration of cases in 2017, but crime rate per lakh population was down to 383.5 in 2018 from 388.6 in 2017.

A total of 29,017 murders were reported in 2018, up by 1.3% over 2017. Of which, disputes were reported as the motive of the highest number of murder cases followed by personal vendetta and enmity and gain.

Accidental deaths have also seen a rise to 4,11,824 in 2018 from 3,96,584 in 2017, a rise to 31.1% from 30.3% in 2017.

The number of cases registered under the crime against women' category in 2018 was 3,78,277, up from 3,59,849 in 2017. The number of rape cases, as defined in IPC section 376, were 33,356 in 2018.

Delhi leads over 18 other metro cities in terms of crimes. Delhi accounts for a 29.6 per cent share of the overall figures for this category that includes Indian Penal Code (IPC) and Special and Local Laws (SLL).

In last 10 years, the total number of criminal cases filed in Delhi and its share in total cases filed across the country has increased to 2,49,000 cases (7.9 per cent) in 2018 from about 50,000 cases (2.4 per cent) in 2009. Theft cases are a major source of the increase in the number of registered cases.

NCRB also said that clarifications on data were pending from West Bengal, Arunachal, Meghalaya, Sikkim and Kolkata. Hence, the data from these states and city may be treated as provisional.