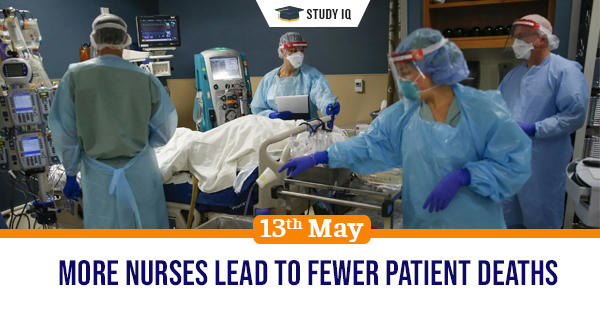 More nurses lead to fewer patient deaths
Date: 13 May 2021
Tags: Reports & Indices
Issue
A new research has given indications of decrease in patient deaths by increasing the number of nurse staffs.
Background
The WHO has designated the year 2020-21 as the International Year of the Nurse and Midwife to honour 200th birth anniversary of Florence Nightingale.
Details
The study conducted in Australia has shown that the recent policy of increasing minimum ratio of a nurse to four patients during day shits has provided benefits.

The policy has reduced the chances of the chance of death and readmission by 7 percent in addition to improved patient care.

It also reduces the length of stay by 3 percent for every one less individual a nurse has to take care of.
The study
The team collected data from hospitals that implemented the policy and also from those who did not with base year of 2016 and a follow-up in 2018.

Researchers collected data such as demographics, discharge details, diagnoses as well as length of hospital stay for individuals.

The data was then compared with the death records 30 days after hospital discharge and also re-admission after seven days of discharge.

The re-admission chances grew by 6 percent in those hospitals that had not implemented the policy whereas it remained same in those that implemented.

The length of stay decreased by 5 percent in hospitals that did not implement the measure whereas it fell by 7 percent in those that implemented.