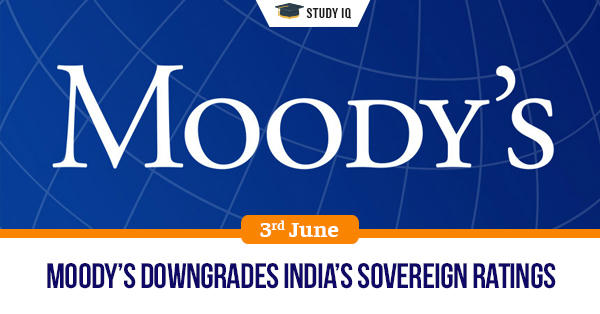 Moody's downgrades India's sovereign ratings
Date: 03 June 2020
Tags: Reports & Indices
Issue
Moody's Investors Service downgraded the Government of India's foreign-currency and local-currency long-term issuer ratings to "Baa3" from "Baa2". It stated that the outlook remained "negative".
Background
The latest downgrade reduces India to the lowest investment grade of ratings and brings Moody's ratings for the country in line with the other two main rating agencies in the world, Standard & Poor's (S&P) and Fitch.
Details
The negative outlook reflects dominant, mutually-reinforcing, downside risks from deeper stresses in the economy and financial system that could lead to a more severe and prolonged erosion in fiscal strength than Moody's currently projects.

Moody's has highlighted persistent structural challenges to fast economic growth such as weak infrastructure, rigidities in labour, land and product markets, and rising financial sector risks.

According to Moody's, the pandemic amplifies vulnerabilities in India's credit profile that were present and building prior to the shock, and which motivated the assignment of a negative outlook last year.

The low effectiveness of policy and the resulting loss of growth momentum is evidenced in the sharp deceleration in India's GDP growth rates.
Reasons for downgrade
Weak implementation of economic reforms since 2017.

Relatively low economic growth over a sustained period.

A significant deterioration in the fiscal position of governments (central and state).

The rising stress in India's financial sector.
Implications
Ratings are based on the overall health of the economy and the state of government finances. A rating downgrade means that bonds issued by the Indian governments are now "riskier" than before, because weaker economic growth and worsening fiscal health undermine a government's ability to pay back.

Lower risk is better because it allows governments and companies of that country to raise debts at a lower rate of interest.

When India's sovereign rating is downgraded, it becomes costlier for the Indian government as well as all Indian companies to raise funds because now the world sees such debt as a riskier proposition.