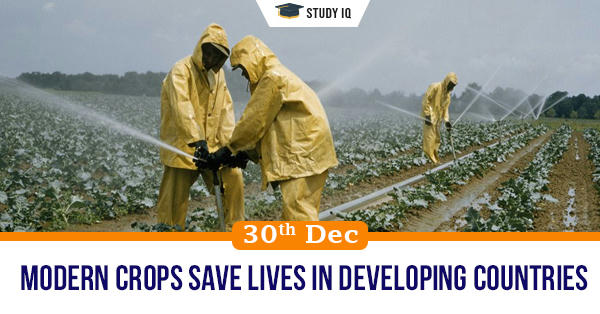 Modern crops save lives in developing countries
Date: 30 December 2020
Tags: Reports & Indices
Issue
A new study on modern crop development estimates that more than 100 million infant lives have been saved since modern crop varieties were introduced in the 1950s and 1960s.
Background
The spread of Green Revolution has not been consistent over time but it certainly has saved lives of infants on an average.
Details
The researchers looked at mortality rates of more than 600,000 children across 37 developing countries, combining public health surveys of women with geospatial crop data.

Over those years, researchers noticed an average reduction in infant mortality rates from 2.4 to 5.3 percent, as well as larger drops in mortality among male babies and in poorer households.

A substantial part of the reduction in premature infant deaths in the developing world can be put down to moves towards higher yielding cereal crops.

Wheat, maize, and rice are the key staple crops analysed in the course of the study as well as the benefits of using improved varieties of these crops.

An increase in modern crop adoption from 0 to 50 percent in a global level could see a related drop of 33-38 deaths per 1,000 children.

However, the research did not factor in the increased use of fertilisers, irrigation, or pest control methods alongside the spread of modern crop varieties.
Green Revolution
The Green Revolution refers to a period when agriculture was converted into an industrial system due to the adoption of modern methods and technology, such as the use of high yielding variety seeds, tractors, irrigation facilities, pesticides, and fertilizers.

The process was initiated by Norman Borlaug, which leveraged agricultural research and technology to increase agricultural productivity in the developing world.
Components of green revolution
Irrigation infrastructure

Use of pesticides

Use of herbicides

Consolidation of holdings

Improved rural infrastructure

Supply of agricultural credit

Use of chemical or synthetic fertilizers

Use of sprinklers or drip irrigation systems

Use of advanced machinery