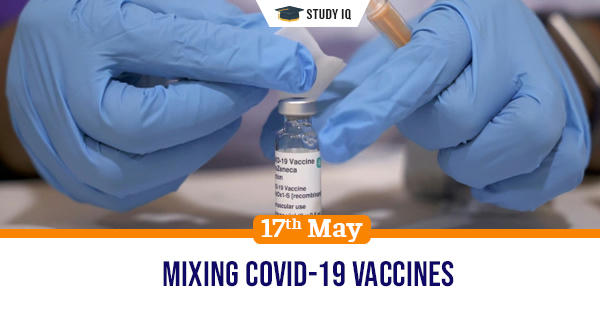 Mixing Covid-19 vaccines
Date: 17 May 2021
Tags: Reports & Indices
Issue
A study conducted to analyse the alternating doses of various vaccines has found that mixing vaccines will generate mild-to-moderate reactions compared to normal schedule.
Background
In present scenario, a single vaccine is given in two doses for better protection. However, many studies are being conducted to verify if different doses can be used.
Details
The mixed schedules included Pfizer-BioNTech followed by Oxford-AstraZeneca, and later by Pfizer-BioNTech.

The mixed doses induced frequent reactions in the second dose in comparison to the reaction during the second dose of non-mixed schedule.

Researchers have added that the reaction observed were mild and temporary. There was no concern of safety.

Many countries are planning for mixed doses but researchers have warned that it may lead to increase in work absences after getting vaccinated.

The study was recorded in patients aged 50 and above, and it may be possible that reactions may be more intense in younger patients.
Reactogenicity
It is the response generated by the body against vaccination. It may include swelling, pain, fever, headache, soreness etc.