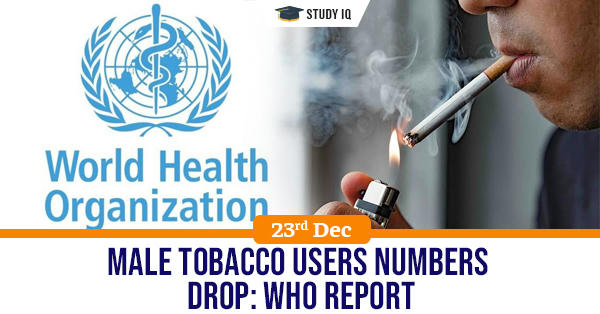 Male tobacco users numbers drop: WHO report
Date: 23 December 2019
Tags: Reports & Indices
Issue
The number of male tobacco users is falling for the first time according to a report by the World Health Organisation (WHO).
Background
Four out of five tobacco users globally are men, so declines among males mark a turning point in the fight against tobacco.
Details
The agency's new report covers an array of tobacco use, including cigarettes, cigars and chewing tobacco.

But the WHO did not count electronic cigarettes as tobacco products and officials could not say what impact the growing popularity of vaping devices has had in diverting people from traditional smoking.

It states that there is a powerful indication that anti-smoking campaigns around the globe have begun to pay off.

Global tobacco use has dwindled from 1.397 billion users in 2000 to 1.337 billion in 2018. This means around 60 million fewer people are using tobacco products even as the global population has swelled.

The number of women and girls who use tobacco products has been steadily declining for years dropping from 346 million in 2000 to 244 million in 2018.

The report shows that by 2020, male users will shrink by two million people compared to 2018 and by 2025, there are projected to be six million fewer male tobacco users than in 2018.

The WHO report found that countries in southeast Asia had the world's highest rates of tobacco use, 45 percent among males and females age 15 and older. But that percentage also is projected to decline.
Tobacco crop
In India tobacco is predominantly cultivated in AP, Gujarat, Karnataka, UP and Bihar. Gujarat accounts for 45 per cent of the area and 30 per cent of production. Productivity is also highest in Gujarat followed by AP.

It is grown in warm climates with rich, well-drained soil. Global leaders in tobacco production are US, China, Brazil and India.