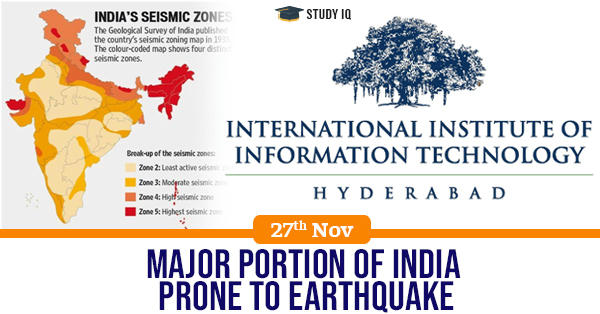 Major portion of India prone to earthquake
Date: 27 November 2019
Tags: Reports & Indices
Issue
An Earthquake Disaster Risk Index (EDRI), prepared by the National Disaster Management Authority (NDMA) in association with IIIT-Hyderabad, showed that about 56% area of India is vulnerable to moderate to major earthquakes where about 82% of the population live.
Background
The report was prepared based on the field visit of 25 cities and collection of secondary data from officials of the remaining cities.
Details
The index developed for 50 cities and one district (Bareilly in Uttar Pradesh) from high seismic zones on a pilot basis were chosen based on population density, housing threat factor and cities identified for 'Smart Cities' project has shown that no city has a low hazard level.

Those with hilly terrain showed to have low exposure, whereas cities with flat terrain and high populations have high exposure. Vulnerability of each city depends only on construction typology adopted and is found to be low in five cities, medium in 36 cities and high for nine cities.

Result is that only seven cities have low level risk, whereas 30 cities have medium level risk and 13 cities have high level risk.
Earthquake hazard
Earthquake hazard refers to the amount of ground shaking that an area will experience; exposure refers to the number of buildings present in that area, and vulnerability refers to the strength of the building to withstand an earthquake.
Measures
One way is to educate architects and engineers in putting in place an adequate framework for new buildings, second is to determine the risk of existing buildings and suggest techniques for reinforcing them.

Detailed structural evaluation of vulnerable buildings so that suitable riders can be put in place on developmental activities along with retrofitting measures adopted by the policy makers.