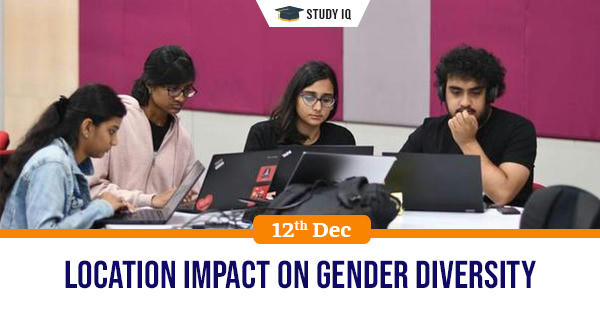 Location impact on gender diversity
Date: 12 December 2019
Tags: Reports & Indices
Issue
A study says that location has an important role in determining gender diversity especially in workplaces across India. Bengaluru has the highest gender diversity at workplaces with 34% women employees, followed by Mumbai 33% and Pune 32%.
Background
The study evaluated 60 enterprises from the Indian ecosystem, comprising of Global Capability Centres (GCCs), Technology Service Providers, start-ups, and companies, found that large companies have the highest gender representation at 33%, medium-sized ones have 27%, while women employees accounted for only 21% among small companies.
Details
The average gender diversity for tier-1 cities stands at 31% and for tier-2 and tier-3 cities at 25%.

There is 30% representation of women in corporate India, with 31% and 26% representation within non-technical and technical roles, respectively.

There are only 11% senior women leaders in the ecosystem, however, the junior and middle levels fare slightly better at 38% and 20%, respectively.

The number of women on company boards has increased from 5% in 2012 to 13% in 2018, due to mandate of having at least one woman on every company's board of directors.

The study finds that even though women make up 48.2% of India's population, a huge gender disparity continues to exist in Indian workplaces, even though most companies surveyed have been running diversity programmes for many years.

In order to make significant progress in the inclusion of women in the workplace, companies across the board need to align on a few common priorities and themes.

The study has analysed the statistics around gender diversity and various organisational policies and practices that give a comprehensive perspective of women in corporate India.
Benefits of gender diversity
Some studies show that higher diversity in the workforce is expected to bring higher returns.
Gender diversity in companies leads to improved reputation both directly and indirectly.
Since men and women have different viewpoints, ideas, and market insights, a gender-diverse workforce enables better problem solving.
Decision making processes
Gender diversity in boards increases diversity of ideas by introducing different perspectives and problem-solving approaches. This gives teams increased optionality and decision-making advantages.
Diversity of management styles
Study shows that women are considered to "bring empathy and intuition to leadership", since they have greater awareness of the motivations and concerns of other people.