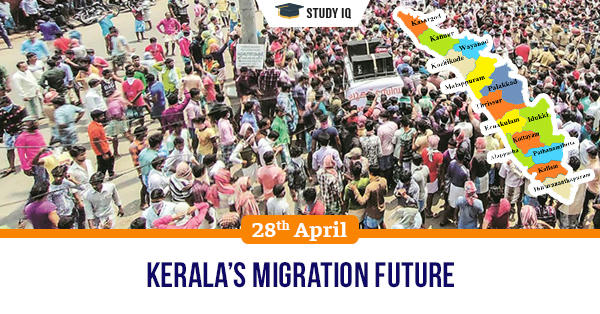 Kerala's migration future
Date: 28 April 2020
Tags: Reports & Indices
Issue
Once the lockdown is lifted, Kerala will face a new challenge with the expected return of a large section of Keralites from the Middle East. This throws the spotlight on the importance of out-migration in Kerala's economy, and raises questions about its future.
Background
Migration (both internal and international) has been the single most dynamic factor in the development of Kerala since its formation in 1956. Data available for the old Travancore-Cochin region suggests that it was characterised by a net inflow of persons until 1941.
Details
Until 1971, most Keralites were migrating within India, mostly to emerging cities such as Delhi, Mumbai, Chennai and Bangalore. This is partly due to the demand for skilled/educated persons, which Kerala could contribute due to its high literacy rate.

However, with the opening up of the Gulf economies to foreign workforces in the 1970s in the wake of a spike in oil prices, the tide of migration from Kerala moved decisively from internal to international.

The rate of out-migration peaked in 1971-81, at approximately 250,000. The available data indicates that the outflow continued well into the 1980s and 1990s.

Consequently, many of the Malayalis who had left Kerala for other parts of the country in the earlier days, moved now to the Gulf. Till 1999, Kerala had only one international airport. Today, it has four, due to the importance of international migration and remittances to the economy and society at large.

The first study, in 1998, indicated that nearly 1.5 million Keralites were then living outside India, with another 750,000 former emigrants having returned. Over the years, the survey found that they live mostly on the savings, work experience, and skills brought with them from abroad.

More than a million families depend on internal migrants' earnings for subsistence, children's education and other economic requirements. While the educationally backward Muslims from the Thrissur-Malappuram region provide the backbone of emigration, the educationally forward Ezhawas, Nairs and Syrian Christians from the former Travancore-Cochin State form the core of internal migration.

Kerala has seen widespread return migration due to external shocks on at least three occasions — Gulf War, global economic crisis and Nitaqat policy of Saudi Arabia.

The top destination is the Gulf region with 89.2 per cent of the total emigrants. The UAE has remained the favourite destination for Keralites from the beginning. About 1.89 million emigrants live in the Gulf countries.

The Gulf countries are already beginning to see the effects of the COVID crisis, with oil prices sinking to an all-time low. Most sectors will likely incur heavy job losses amid changing domestic policies.

The vital importance of migrants to Kerala's economy and society means that the government will have to take careful steps to foster international migration in a post-COVID world.