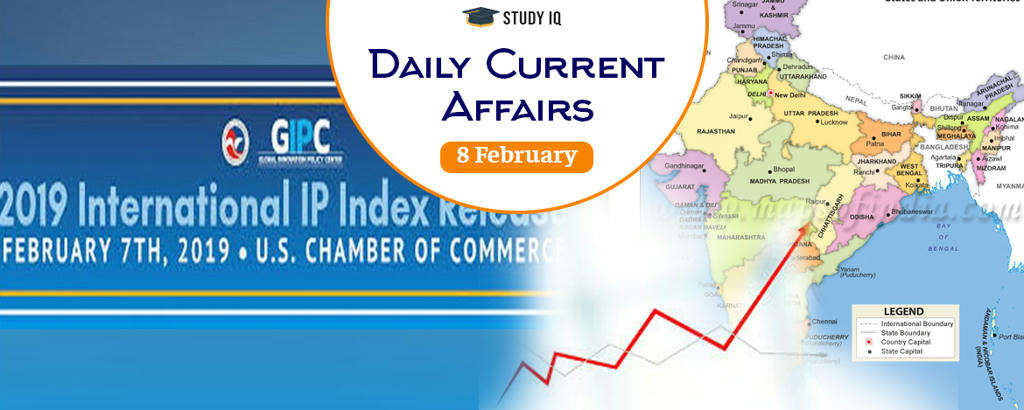 IP Index 2019: India ranks 36th
Date: 08 February 2019
Tags: Reports & Indices
India ranked 36th position out of 50 countries on International Intellectual Property (IP) Index 2019 released by US Chamber of Commerce. This year India jumped by eight places from previous 44th position in IP index 2018. This was highest gain for any country this year.
International Intellectual Property (IP) Index
It is released annually by US Chamber of Commerce's Global Innovation Policy Center (GIPC) since 2014.

It analyses IP climate in 50 global economies accounting for over 90% of global gross domestic product (GDP).

It ranks countries on score scale of 0 (lowest score) to 45 (highest score) based on 45 indicators that are critical to innovation development surrounding patent, copyright, trademark and trade secrets protection.

It provides IP report card for world and blueprint for policy-makers in surveyed countries that are seeking to bolster economic growth and jobs, innovation, and creativity.
Highlights of IP Index 2019
Top Countries: United States (Rank: 1st, score 42.66 points), United Kingdom (2nd, 42.22), Sweden (3rd, 41.03), France (4th) and Germany (5th, 41.00).
Other Countries: China was ranked 25th with 21.45 points. Pakistan was ranked at 47th spot with 12 points. Venezuela was placed at last place (50th) with 7.11 points.
India's performance: Improvement in its rankings reflects important reforms implemented towards building and sustaining innovation ecosystem for domestic entrepreneurs and foreign investors alike.

India's overall score has also increased substantially from 30.07% (12.03 out of 40) in the previous edition to 36.04% (16.22 out of 45) in the present edition.

India's improvement in ranking is result of specific reforms that better align its IP environment with international IP system, including its accession to World Intellectual Property Organization (WIPO) Internet Treaties, agreement to initiate Patent Prosecution Highway (PPH) with Japan, a dedicated set of IP incentives for small businesses, and administrative reforms to address patent backlog

However, India continues to face substantial challenges, particularly in respect of patenting and IP enforcement environments.

Even there are barriers to licensing and technology transfer, including strict registration norms, patentability rules outside international standards, limited framework for protection of biopharmaceutical IP rights, lengthy pre-grant opposition proceedings and previously used compulsory licensing for non-emergency and commercial situations.