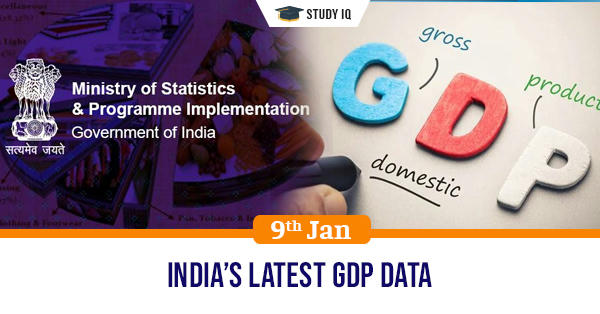 India's latest GDP data
Date: 09 January 2021
Tags: Reports & Indices
Issue
The Ministry of Statistics and Programme Implementation released the First Advance Estimates (FAE) for the current financial year.
Background
India's gross domestic product (GDP) will contract by 7.7 percent in 2020-21. It is the total value of all final goods and services produced within the country in one financial year.
Details
For any financial year, the MoSPI provides regular estimates of GDP. The first such instance is through the FAE.

Their significance lies in the fact that they are the GDP estimates that the Union Finance Ministry uses to decide the next financial year's Budget allocations.
Calculating FAE
The FAE are derived by analysing the available data. The approach for compiling the Advance Estimates is based on Benchmark-Indicator method.
The sector-wise estimates are obtained by using indicators such as:
Index of Industrial Production (IIP) of first 7 months of the financial year

Financial performance of listed companies in the private corporate sector available up to quarter ending September, 2020

The 1st Advance Estimates of crop production,

The accounts of central & state governments,

Information on indicators like deposits & credits, passenger and freight earnings of Railways, passengers and cargo handled by civil aviation, cargo handled at major sea ports, sales of commercial vehicles, etc.
Key observations
In the context of recent history, the 7.7 percent contraction in GDP is a sharp one considering that India has registered an average annual GDP growth rate of 6.8 percent since the start of economic liberalisation in 1992-93.

India's real GDP, GDP without the influence of inflation in 2020-21 will be lower than the 2018-19 level at Rs 134.4 lakh crore.

While the overall real GDP will fall by 7.7 percent, per capita real GDP will fall by 8.7 percent. Per capita GDP is a better variable if one wants to understand how an average India has been impacted.

India's real Gross Value Added level will fall below the 2018-19 level. The Gross Value Added provides a picture of the economy from the supply side. It maps the value-added by different sectors of the economy such as agriculture, industry, and services.

GFCF (or the investment demand in the economy) has fallen even below 2016-17 level. Gross Fixed Capital Formation measures all the expenditures on goods and services that businesses and firms make as they invest in their productive capacity.