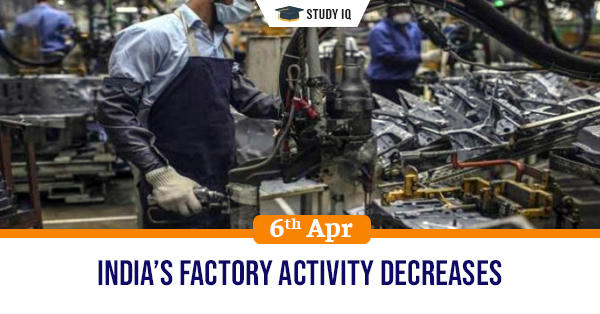 India's factory activity decreases
Date: 06 April 2021
Tags: Reports & Indices
Issue
India's Manufacturing Purchasing Managers' Index (PMI) has fallen to a seven-month low of 55.4 from 57.5 in February.
Background
The index reflects the slowdown in the manufacturing sector that has escalated post the surge in new covid cases.
Details
The results indicated that the slowdown emerged from COVID-19 restrictions related to workforces.

The rate of contraction was average but it was quickest since September 2020. It also showed loss of jobs in the sector.

The rate of inflation was one of the strongest in recent years due to rise in prices of chemical, metal, plastic, rubber and textile.
Indication of index
Though PMI has slowed, it has remained in acceptable limits. The further lockdown measures could impact activity.

The prediction that vaccination programme would control the disease and enhance output growth will act as a positive confidence building measure.
Purchasing Managers Index
Purchasing Managers Index shows the direction of economic trends in the manufacturing and service sectors of the economy.

It includes a diffusion index that indicates whether market conditions are expanding, staying the same, or contracting.

The aim of the PMI is to give information about current and future business conditions to company decision makers, analysts, and investors.