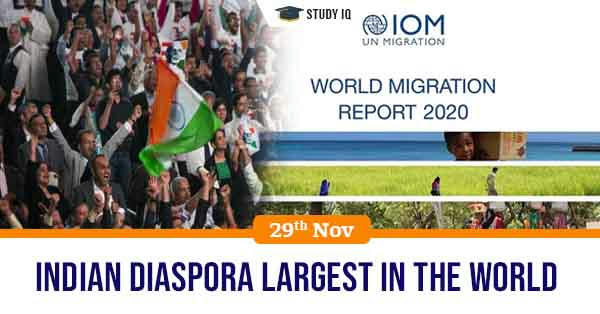 Indian diaspora largest in the world
Date: 29 November 2019
Tags: Reports & Indices
Issue
India continues to be the largest country of origin of international migrants with a 17.5 million-strong diaspora across the world, according to the U.N. migration agency.
Details
The International Organisation for Migration said in its 'Global Migration Report 2020' that the number of international migrants in 2019 is now estimated at 270 million and the top destination remains the U.S., at nearly 51 million.

This figure remains a very small percentage of the world's population (at 3.5%), meaning that the vast majority of people globally (96.5%) are estimated to be residing in the country in which they were born.

According to the U.N. agency, more than half of all international migrants (141 million) live in Europe and North America. An estimated 52% are male, and nearly two-thirds of all migrants are looking for work.

India continued to be the largest country of origin of international migrants. It had the largest number of migrants living abroad (17.5 million), followed by Mexico (11.8 million) and China (10.7 million).

The report also noted that international remittances increased to $689 billion in 2018. The top three remittance recipients were India ($78.6 billion), China ($67.4 billion) and Mexico ($35.7 billion).

The United States remained the top remittance-sending country ($68 billion) followed by the United Arab Emirates ($44.4 billion) and Saudi Arabia ($36.1 billion).

In Africa, Asia and Europe, most international migrants stay within their regions of birth, but the majority of migrants from Latin America and the Caribbean and North America do not.

Data showed that Gulf countries have some of the largest numbers of temporary labour migrants in the world, including the United Arab Emirates, where they make up almost 90% of the population.

Violence in Central African Republic, the Democratic Republic of the Congo (DRC), Myanmar, South Sudan, Syria and Yemen have led to massive internal displacement in the last two years.
International Organisation for Migration
The International Organization for Migration is an intergovernmental organization of UN that provides services and advice concerning migration to governments and migrants, including internally displaced persons, refugees, and migrant workers.
IOM's stated mission is to promote humane and orderly migration by providing services and advice to governments and migrants.