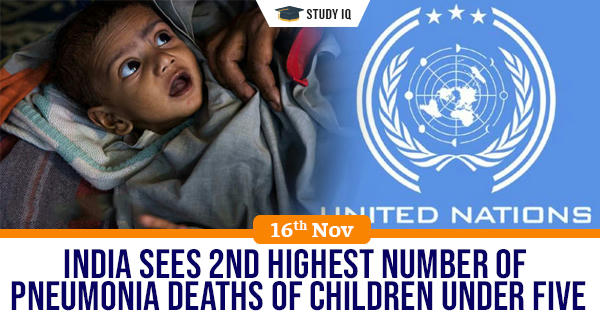 India sees 2nd highest number of pneumonia deaths of children under five
Date: 16 November 2019
Tags: Reports & Indices
Issue
India had the second-highest number of deaths of children under the age of five in 2018 due to pneumonia, according to a new report by the UN.
Background
The United Nations Children's Fund (UNICEF) said that globally, pneumonia claimed the lives of more than 800,000 children under the age of five last year. Most deaths occurred among children under the age of two, and almost 153,000 within the first month of life.
Details
The report said just five countries were responsible for more than half of child pneumonia deaths: Nigeria (162,000), India (127,000), Pakistan (58,000), the Democratic Republic of Congo (40,000) and Ethiopia (32,000).

The reports also said that, pneumonia is responsible for 15 per cent of deaths in children under the age of five, and yet, just three per cent of global infectious disease research spending is allocated to the disease.

The strong link between child pneumonia deaths and poverty is undeniable. Around half of all pneumonia-related deaths are associated with air pollution.

Lack of access to drinking water, inadequate health care, and the burden of undernutrition and indoor air pollution are major drivers of vulnerability to the disease.

The UN agency said that the children whose immune systems is weakened by other infections like HIV or by malnutrition, and those living in areas with high levels of air pollution and unsafe water, are at far greater risk.

The report also expressed concern that children with severe cases of pneumonia may require oxygen treatment, which is rarely available in the poorest countries to the children who need it.

The organisations are urging governments in the worst-affected countries to develop and implement pneumonia control and prevention strategies and call on richer nations and donors to boost immunisation coverage by lowering the cost of key vaccines.
Pneumonia
Pneumonia is an infection that inflames the air sacs in one or both lungs. The air sacs may fill with fluid or pus (purulent material), causing cough with phlegm or pus, fever, chills, and difficulty breathing.
A variety of organisms, including bacteria, viruses and fungi, can cause pneumonia