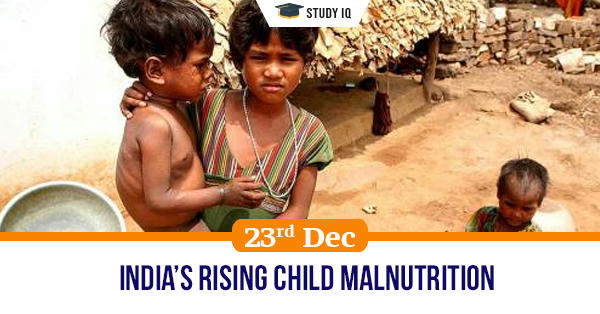 India's rising child malnutrition
Date: 23 December 2020
Tags: Reports & Indices
Issue
According to the World Health Organisation, over 8 lakh children under the age of five died in India due to issues related to malnutrition.
Background
For a country that already had the most number of malnourished children in the world, this is a scary picture. India cannot be a global superpower unless it first brings down the levels of child malnutrition.
Details
Malnutrition refers to when a person's diet does not provide enough nutrients or the right balance of nutrients for optimal health.

Causes of malnutrition include inappropriate dietary choices, a low income, difficulty obtaining food, and various physical and mental health conditions.

If a person does not get the right balance of nutrients, they can also have malnutrition. It is possible to have obesity with malnutrition.

When a person has too little food, a limited diet, or a condition that stops their body from obtaining the right balance of nutrients, it can have a severe impact on their health. In some cases, this can become life threatening.
Reasons for malnutrition
Some people develop malnutrition because there is not enough food available or because they have difficulty eating or absorbing nutrients.
Social and mobility problems
There are actors that can affect a person's eating habits and potentially lead to malnutrition, such as disability to move, limited cooking skills etc.
Digestive disorders and stomach conditions
If the body does not absorb nutrients efficiently, even a healthful diet may not prevent malnutrition.
Types of malnutrition
Children are defined as wasted if their weight- to- height is way below the standard ratio set by WHO.
Stunting is the impaired growth and development that children experience from poor nutrition, repeated infection, and inadequate psychosocial stimulation. Children are defined as stunted if their height-for-age is less than standard ratio.
An underweight person is a person whose body weight is considered too low to be healthy. If a person is underweight, their body may not be getting the nutrients it needs to build healthy bones, skin, and hair.