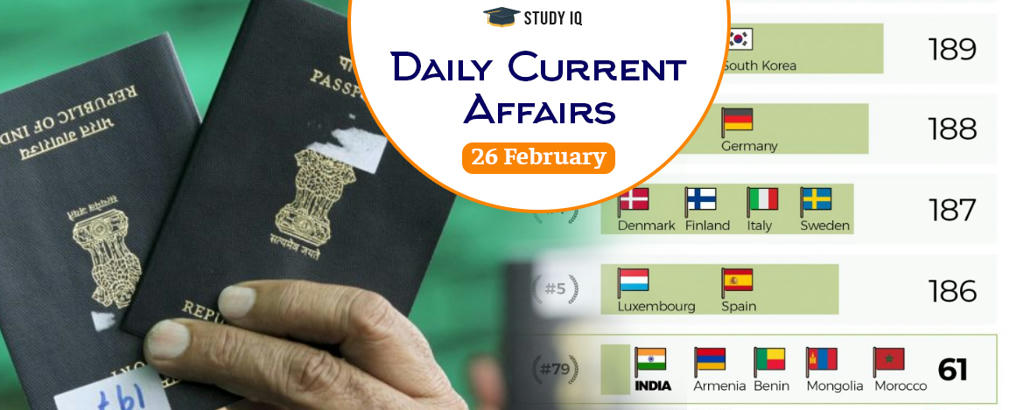 2019 Global Passport Index: India ranks 67th
Date: 26 February 2019
Tags: Reports & Indices
Indian Passport was ranked 67th in the 2019 Global Passport Power Rank released by Canada based global financial advisory firm Arton Capital. India rank has moved up by one spot as compared to 68th rank in 2018 edition.
UAE's passport was ranked number 1 on index followed by Germany (rank 2), and US, France, Denmark, Sweden, Luxembourg, Finland, Italy, Singapore, Netherlands, Spain, Norway and South Korea were jointly ranked third
Key Facts
India provides visa-free access to 25 countries, visa on arrival to 39 countries and for 134 countries, visa requirement is compulsory. In this index, Indian passport has steadily strengthened in period of 5 years from rank 77 in 2015 to 67 in 2019.
Reasons for India's improvement
India's passport continues to strengthen its rank on global index as more and more nations around globe are offering visa-free entry and visa on arrivals to Indians.
More and more countries are opening up to Indian tourists in recognition to their increasing spending power and their ability to return home.
Besides, Central Government has also opened up foreign tourists over the last five years and now gives e-tourist visa facilities to 166 countries, up from 46 nations in 2014

India's e-visa regime has made the process more tourist-friendly and will double foreign tourist arrival figures by 2021.
Global Passport Power Rank/Index
It is released annually by Canada based global financial advisory firm Arton Capital.

It ranks passport of almost 199 countries in the world based on their Visa-Free Scores and their ranking according to UNDP human development index.

The rank of national passports is mainly based factors such cross-border access they bring, assigning visa-free score according to number of countries passport holder can visit visa-free or with visa on arrival. It has become most popular interactive online tool to display, sort and rank world's passports.
Note: Global Passport Power Rank is different from Henley Passport Index which ranks countries on data provided by International Air Transport Authority (IATA) and aims to cover 199 passports and 227 travel destinations across the world. India had ranked 79th on their list with jump of three points as it ranked 81 on the list in 2018.