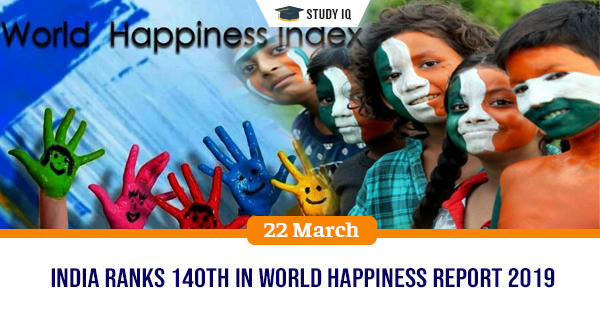 India ranks 140th in World Happiness Report 2019
Date: 22 March 2019
Tags: Reports & Indices
India was ranked 140th among 156 countries World Happiness Report 2019 released by United Nations Sustainable Development Solutions Network. India was rank has 133rd in 2018 report and has dropped by 23 positions since 2015.
World Happiness Report
It is released very year by United Nations Sustainable Development Solutions Network.

It ranks 156 countries on how happy their citizens perceive themselves to be. Rank of countries depend of score ranging from 0 (least happy) to 10 (most happy).

It ranks countries on six key variables that support well-being: income, trust, freedom, healthy life expectancy, social support and generosity.

It offers governments and individuals across the world opportunity to rethink public policies and individual life choices, to raise happiness and well-being.
Findings of 2019 Report
Top 10 Countries:

Finland (Rank: 1st, Score: 7.769), Denmark (2nd, 7.600), Norway (3rd, 7.554), Iceland (4th, 7.494), Netherlands (5th, 7.488), Switzerland (6th,7.480), Sweden (7th,7.343), New Zealand (8th, 7.307), Canada (9th, 7.278) and Austria (10th, 7.246).

Bottom 10:

South Sudan (156, 2.853), Central African Republic (155, 3.083), Afghanistan (154, 3.203), Tanzania (153, 3.231), Rwanda (152, 3.334), Yemen (151, 3.380), Malawi (150, 3.410), Syria (149, 3.462), Botswana (148, 3.488), Haiti (147, 3.597)

BRICS:

Brazil (32nd, 6.300), Russia (68th, 5.648), China (93rd, 5.191), South Africa (106, 4.722).

India's neighbours:

Pakistan (67, 5.653), Bhutan (95, 5.082), Nepal (100, 4.913), Bangladesh (125, 4.456), Sri Lanka (130, 4.366)

Global Happiness Scenario:

There has been increase in negative emotions, including sadness, worry and anger across world and overall world happiness has fallen over past few years. None of world's major economic powerhouses was placed in top 10.

India related facts:

It has witnessed sustained drop in rankings. It is visible from 111st (2013), 117th (2015), 118th (2016), 122nd (2017), 133rd (2018) and 140 in 2019 with score of 4.01 on the scale of 10.

India has featured in list of five countries that have seen largest drop in their rankings since 2005-2008 along with Yemen, Syria, Botswana and Venezuela.

India's per capita GDP has only increased progressively over these years, but it is not enough. It is still struggling with health, education, inequality, public services, employment.