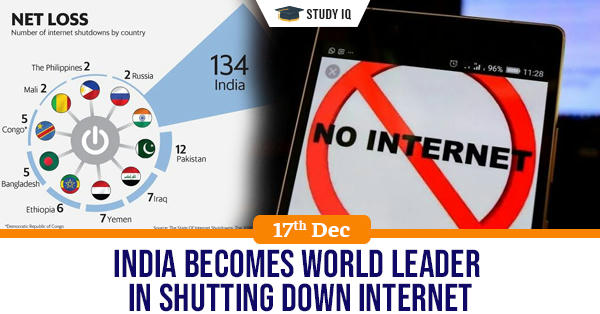 India becomes world leader in shutting down internet
Date: 17 December 2019
Tags: Reports & Indices
Issue
The world's fastest growing Internet market, India, is also the global leader by far in cutting off access to small and large sections of its population, according the Software Freedom Law Center (SFLC) report.
Background
It is now commonplace during moments of tension for law enforcement and government officials to cut off the Internet as both an early and a preventive response against organising protest as well as stopping spread of rumours and fake news.
Details
The Internet is pretty much a basic human right, even if not legally defined as such, for most parts of the world. Without access to the virtual world, a very large number of vital human activities simply stop.

SFLC, which gets most of its data from national and regional newspapers considers that their data is as reliable as the sources it comes from and it is the only data that is available.

Over the past five years, some 16,000 hours of Internet shutdowns cost the economy a little over $3 billion, according to estimates in a report by the Indian Council for Research on International Economic Relations (ICRIER).

SFLC also found frequent shutdowns in Pakistan, Bangladesh, Myanmar, Egypt, Congo, Syria, Sudan, Burundi, Iraq, and Venezuela.

The current sweeping shutdowns come after access to the Internet was cut off as a preventive measure in several states last month ahead of the Supreme Court's Ayodhya verdict, when there were apprehensions of tension and violence. Rajasthan and Uttar Pradesh saw the largest numbers of suspensions of Internet services.

Home Departments in the states are mostly the authorities that enforce shutdowns, drawing powers from The Temporary Suspension of Telecom Services (Public Emergency or Public Safety) Rules, 2017.

The decisions are reviewed by a state government review committee. The central government also has powers under this law, but has not used it.

Section 144 has enabled many of the shutdowns in the recent past, especially until the time the telecom suspension Rules came into force in 2017. Section 144 CrPC gives the District Magistrate, Sub-Divisional Magistrate or any other executive magistrate empowered by the state government the power to issue orders to "maintain public tranquility".
Issues associated with Internet shutdown
A shutdown could dent daily economic activity by $6.6 million per 10 million people, according to an analysis by Deloitte.

It is in recognition of the Internet as a human right that the United Nations in 2016 passed a non-binding resolution condemning countries that disrupt Internet access to its citizens.