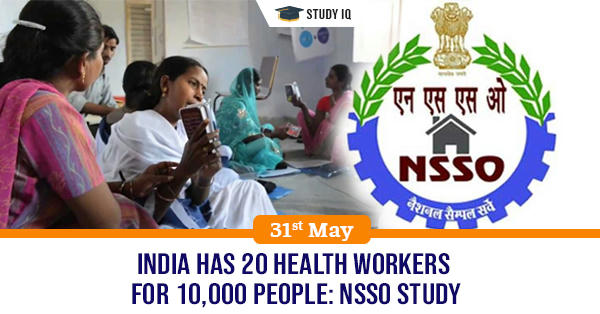 India has 20 health workers for 10,000 people: NSSO study
Date: 31 May 2019
Tags: Reports & Indices
According to recent study of National Sample Survey Organisation (NSSO), India has 20.6 health workers per 10,000 people. It is less than World health Organisation's (WHO) minimum threshold of 22.8 per 10000 people.
Findings of Study
The numbers have increased from 19 health workers per 10000 people in 2012. This shows that India is moving in the right direction and size of the health workforce is steadily improving

Distribution of health workers

: It is highly uneven between urban and rural areas. Rural areas with nearly 71

%

of India's population have only 36

%

of health workers.

Delhi has highest concentration of health workers followed by Kerala, Punjab, and Haryana.

Private vs Public Health Sector:

There is also uneven distribution of health workers is seen in private and public health sector. More than 80

%

of doctors and 70

%

of nurses and midwives are employed in the private sector.

Recommendations:

The Government policy should focus on enhancing quality of health workers and bringing professionally qualified persons into the health workforce.

There is need for public sector and private sector collaboration to overcome the shortages in human resources for health sector.