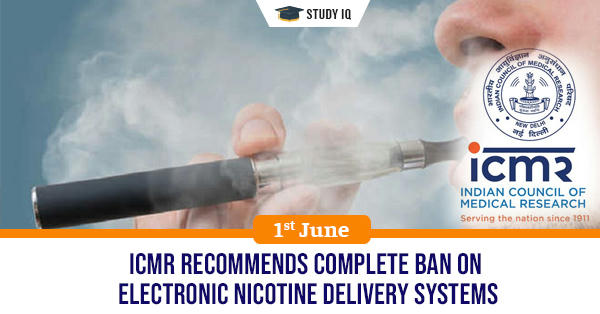 ICMR recommends complete ban on Electronic Nicotine Delivery Systems
Date: 01 June 2019
Tags: Reports & Indices
Indian Council of Medical Research (ICMR) has recommended complete ban on Electronic Nicotine Delivery Systems (ENDS), including e-cigarettes. In this regard it has released white paper on occasion of World No Tobacco Day (observed on May 31).
What are ENDS?
They are devices that heat solution to create an aerosol, which also frequently contains flavours, usually dissolved into propylene glycol and glycerin. There are various types of ENDS devices like heat-not-burn devices, vape, e-cigarettes, e-sheesha, e-nicotine flavoured hookah among others. The most commonly used is e-cigarette. These devices do not burn or use toacco leaves, but instead vaporise solution, which user then inhales (This process is called as vaping). The main constituents of vaporise solution are nicotine, flavouring agents and propylene glycol with or without glycerol.
White paper Findings
Use of ENDS by non-smokers can lead to regular smoking and nicotine addiction. They adversely affects cardiovascular system, impairs respiratory immune cell function and airways in way similar to cigarette smoking and is responsible for severe respiratory disease.

It also poses risk to foetal, infant and child brain development, the white paper claimed. E-cigarettes are also harmful to non-users and have adverse health impacts even when people are exposed to second-hand vapours.

Passive exposure to vapours during pregnancy can severely affect the health of both the mother and the foetus. There are reports of poisoning due to accidental swallowing by children. These devices also can cause fire and explosion.

ENDS are advertised through various forms of media with youth beingtarget group and are being marketed as safer alternatives to conventional cigarettes or harm reduction products, in glamorous manner, so as to make them attractive under the guise of being less harmful.

Major tobacco companies have purchased or developed ENDS products, with dual commercial intent of expanding their range of tobacco products while touting their ability to offer a product that they claim reduces harm from the cigarettes.

Sale of e-cigarettes is completely banned in 25 countries, including Norway, Singapore and Brazil while market authorization is required in 17 other countries. In US, ENDS, that are marketed for therapeutic purposes are currently regulated by US-FDA and Center for Drug Evaluation and Research.
Preventive Measures in India
In August 2019, Union Ministry of Health and Family Welfare had issued advisory to all states and UTs to stop manufacture, sale and import of ENDS. The advisory was challenged in Delhi High Court which had ruled that it to be non-binding on states and government bodies. However, some states in India including Punjab, Maharashtra, Kerala, Karnataka, Himachal Pradesh, Tamil Nadu,Jharkhand Bihar, Uttar Pradesh,, Rajasthan and Mizoram have already banned use and sale of e-cigarettes, Vape and E-Hookah.