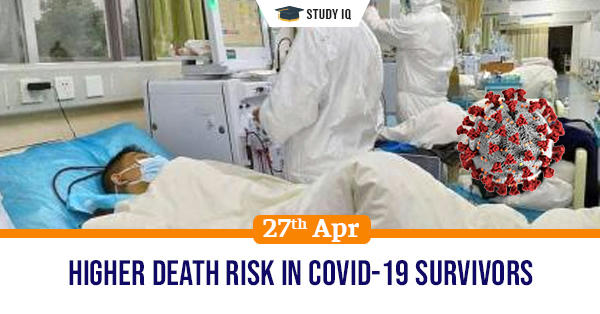 Higher death risk in Covid-19 survivors
Date: 27 April 2021
Tags: Reports & Indices
Issue
A study has shown that people diagnosed with Covid-19 has risk of death in the six months following diagnosis with the virus.
Background
This trend has been observed even in mild cases. This shows that virus has effects on other organs of the body too.
Details
The researchers have also identified numerous diseases associated with Covid-19. This will provide indications of long-term complications of Covid-19.

The study showed that after surviving the initial infection period beyond the first 30 days of illness, Covid-19 survivors had increase in 60% of death risk in comparison with the general population.

About eight people per 1,000 covid-19 survivor patients had chances of death after a period of six months.

Hospitalised patients of covid-19, surviving beyond the first 30 days had a death rate of 29 out of 1000 patients in the following six months.

Initially the virus was assumed to affect lungs and respiratory organs but further studies have shown that the virus can have effects on every organ of the body.

Researchers have found out that Covid-19 patients suffered from major health issues over the next few months that harmed every organ and regulatory system of the body.