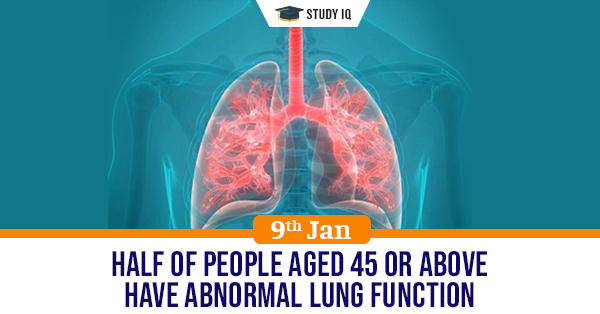 Half of people aged 45 or above have abnormal lung function
Date: 09 January 2021
Tags: Reports & Indices
Issue
Almost 50% of people aged 45 years and above have abnormal lung function, according to Longitudinal Ageing Study in India (LASI).
Background
The survey considered individuals of age 45 or older and their spouses from all states and Union Territories other than Sikkim.
Details
The goal of the study is to provide reliable and continuous scientific data on the health, and social, mental, and economic well-being of India's older adult (aged 45 and above) population.

About 55,186 people underwent spirometry tests to check the health of their lungs. Only 51% reported normal lung function values.

About 40% showed evidence of a restrictive lung disease pattern, indicating small lungs. This was slightly more prevalent in urban areas than in rural areas.

Nine percent reported the presence of obstructive airways diseases such as asthma/COPD. This was somewhat more prevalent in rural areas than in urban areas.

The burden of obstructive airways disease is more prevalent in the northern states. This seems to correlate with high levels of ambient air pollution in these states.

The high burden of abnormal lung function (49%) reported in the study is worrying. This is expected to further aggravate in future.

The results needs to be taken seriously to find the causes and associated risk factors. It may help in preventing further increase in numbers.