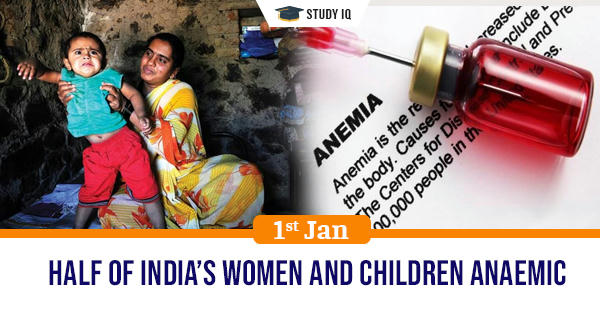 Half of India's women and children anaemic
Date: 01 January 2021
Tags: Reports & Indices
Issue
Indian women and children are overwhelmingly anaemic, according to the National Family Health Survey 2019-20 released recently.
Details
Anaemia testing during the survey was done among children aged 6 to 59 months and among women and men aged 15 to 49 years of age. In a majority of these states and UTs, more than half the children and women were found to be anaemic.

In 15 of these 22 states and UTs, more than half the children are anaemic. Similarly, more than 50 per cent women are anaemic in 14 of these states and UTs.

The proportion of anaemic children and women is comparatively lower in Lakshadweep, Kerala, Meghalaya, Manipur, Mizoram and Nagaland, and higher in Ladakh, Gujarat, J&K, and West Bengal, among others. Anaemia among men was less than 30 per cent in a majority of these states and UTs.

High prevalence of anaemia in the cold desert region could be due to short supply of fresh vegetables and fruits during the long winter each year.
Anaemia
The condition of having a lower-than-normal number of red blood cells or quantity of haemoglobin is called anaemia.

It can make one feel tired, cold, dizzy, irritable and short of breath, among other symptoms. A diet which does not contain enough iron, folic acid or vitamin B12 is a common cause of anaemia.

Some other conditions that may lead to anaemia include pregnancy, heavy periods, blood disorders or cancer, inherited disorders and infectious diseases.
Methodology used
The survey used the capillary blood of the respondents for estimation of anaemia. Among children, prevalence was adjusted for altitude and among adults, it was adjusted for altitude and smoking status.
Reasons behind high deficiency
Iron-deficiency and vitamin B12-deficiency anaemia are the two common types of anaemia in India. Among women, iron deficiency prevalence is higher than men due to menstrual iron losses and the high iron demands of a growing foetus during pregnancies.

Lack of millets in the diet due to overdependence on rice and wheat, insufficient consumption of green and leafy vegetables, and dominance of packaged and processed foods which are low in nutrition could be the reasons behind the high prevalence of anaemia in India.

There could be genetic or environmental factors. The current haemoglobin norms are based on western populations. In India, the normal standards could be different.