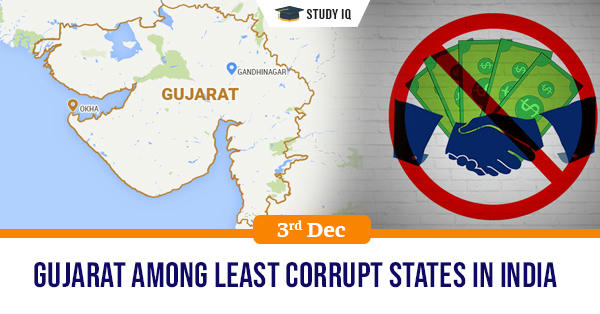 Gujarat among least corrupt states in India
Date: 03 December 2019
Tags: Reports & Indices
Issue
A state government release has claimed that Gujarat is one of the least corrupt states citing reports of India Corruption Survey 2019 conducted by Transparency International.
Background
The survey was prepared by the private agency while taking responses of around 2 lakh people from 248 districts in 20 states. The survey recorded responses of 64% men and 36% women.
Details
According to the release, 78% people in Rajasthan said they had to bribe to get their work done. Whereas Goa, Odisha, Kerala, and Haryana are among the least corrupt states.

With an intention to have less human interface in the functioning of many government departments, the government has developed online systems and it has resulted in Gujarat emerging as a least corrupt state in the survey.

The release mentioned various initiatives to reduce corruption like availability of online facilities for a number of key revenue services, online auction of mines, control over illegal mining through drone cameras, real time monitoring of 3,400 indicators of various departments through CM Dash Board initiative among others.

The release mentioned that Anti-Corruption Bureau has been given wide powers by the state government apart from equipping it with modern gadgets like button cameras, pen cameras, voice recorder.
Transparency International
Transparency International is an international non-governmental organization which is based in Berlin, Germany. Its nonprofit purpose is to take action to combat global corruption with civil societal anti-corruption measures and to prevent criminal activities arising from corruption.

It publishes the Global Corruption Barometer and the Corruption Perceptions Index. It is a member of UNESCO Consultative Status, United Nations Global Compact and United Nations Sustainable Development Goals for Peace, Justice and Strong Institutions and Partnerships For the Goals.

Corruption Perception Index
The Corruption Perceptions Index (CPI) ranks countries and territories based on how corrupt their public sector is perceived to be. The CPI reflects the views of observers from around the world.

The Corruption Perceptions relies on third-party survey which have been criticized as potentially unreliable. Data can vary widely depending on the public perception of a country, the completeness of the surveys and the methodology used.