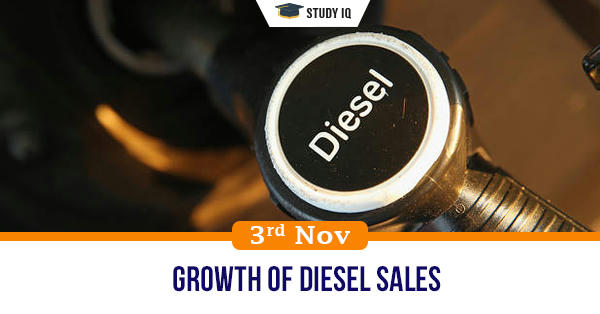 Growth of Diesel sales
Date: 03 November 2020
Tags: Reports & Indices
Issue
Diesel sales in India grew for the first time in October since the lockdown to curb the spread of Covid-19 was imposed in March.
Background
Diesel consumption is a key indicator of economic activity and sales by the leading state-owned OMCs grew by 27.5% over diesel sales in September.
Details
Petrol sales continue to benefit from an increased preference for personal mobility but the sharp growth in diesel sales may be a result of some pent-up demand from previous months which was not fulfilled.

The rebound in diesel demand is crucial for ramping up crude processing by Indian refiners after consumption was crushed by a strict lockdown in late March to check the spread of Covid-19.

This is the peak demand season and, as a result, a busy time for diesel trucks hitting the roads to deliver everything from clothes to refrigerators. Crop harvesting activities also boosted consumption for the industrial fuel.
Factors affecting Diesel demand and prices
Transportation accounts for more than a quarter of the global energy demand. Liquid petroleum fuels including gasoline, diesel, and jet fuel currently meet almost all of this demand.

Faster economic growth and industrialization also results in higher personal incomes and urbanization, which is expected to drive higher vehicle ownership

Apart from this, growth in alternatives such as natural gas, biofuels, and electricity are also expected to drag down petroleum fuels demand in the long run.

The rate of petroleum crude extraction also affects prices of Diesel. The higher the rate of crude output less is the price.