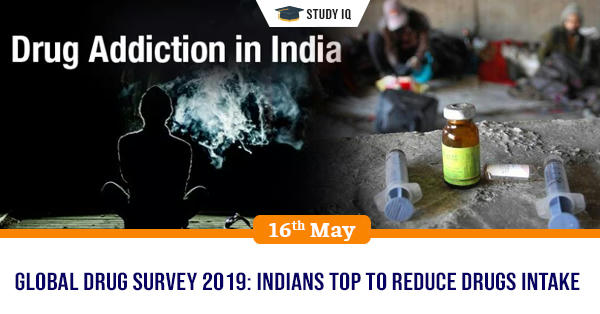 GLOBAL DRUG SURVEY 2019: Indians top to reduce drugs intake
Date: 16 May 2019
Tags: Reports & Indices
According to recent global survey of recreational drug-use has found that Indians-more than from other nationalities surveyed are seeking help to reduce their alcohol intake. They survey was titled Global Drugs Survey (GDS) 2019 and for the first time polled respondents from
GDS 2019 Findings for India
For the first time it polled respondents from India (surveyed online October-December 2018,). It found that alcohol, tobacco and cannabis were the most common stimulants used by Indians.

Indians reported 'being drunk' on average of 41 times in last 12 months behind UK, US, Canada, Australia and Denmark but well above the global average of 33 times.

Indians are more than from other nationalities are seeking help to reduce their alcohol intake. 51

%

%of Indian respondents wanted to 'drink less' in the following year.

43

%

of surveyed Indians reported using cannabis but, similar to alcohol use. 51

%

%of Indian said they wanted to use 'less cannabis' in the following year; more than any other nationality.

About 6

%

% of female Indians surveyed reported seeking 'emergency medical treatment'. The global female average was about 13%.

None of the males in India surveyed reported seeking medical treatment, compared to the global average of 12

%

.
Global Findings in GDS 2019
Apart from alcohol and tobacco, the most used drugs globally were cannabis, cocaine, amphetamines, MDMA (or Ecstacy), LSD (or 'acid'), magic mushrooms, benzodiazepines, prescription opioids, ketamine, nitrous oxide. Globally approximately 14% (11,000) reported being taken advantage of sexually while intoxicated in their lifetime. There were no figures from India available.
Global Drug Survey (GDS)
It is an independent research organisation based in London, UK. It runs largest global survey of recreational drug-use. It is anonymised, online survey that uses detailed questionnaire to assess trends in drug use and self-reported harms among regular drug users and early adopters of new trends. 2019 GDS was 8th annual report published by it.