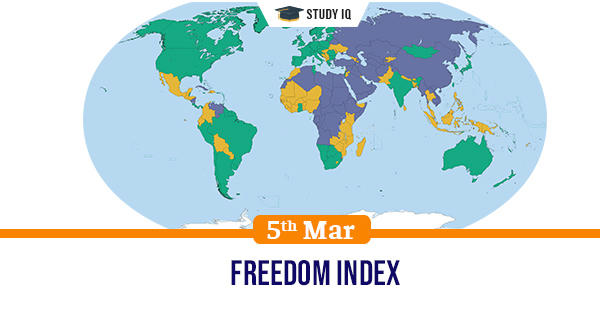 Freedom index
Date: 05 March 2021
Tags: Reports & Indices
Issue
The flagship annual report of Freedom House has shown a decline in global freedom, mainly due to authoritarian regime.
Background
'Freedom in the World' report assesses the condition of political rights and civil liberties around the world. It is published since 1973,
Details
Freedom House has demoted India from "free" to "partly free". It has highlighted the sustained degradation of civil liberties in the country.

The report also notes that the countries showing deterioration outnumbered those with improvements by the largest margin.
Observations
India's score reduced from 71 to 67 which resulted in the country going five ranks down to 88 out of 211 countries.

Freedom House termed India's degradation a significant development that has reduced the world's population living in a free country to the lowest since 1995.

The freest countries in the world are Finland, Norway and Sweden. At the bottom of the list are Tibet and Syria.

The report continues to list Kashmir separately based on its policy of assessing disputed areas separately if they meet certain criteria.
Freedom house
Freedom House is a U.S.-based non-profit non-governmental organization (NGO) that performs research and advocacy on democracy, political freedom, and human rights. Freedom House was founded in 1941.

Freedom of the Press and Freedom on the Net are reports that monitor censorship, intimidation and violence against journalists, and public access to information.

The organization is funded up to 86% by the US government. It has been termed as government-influenced organisation with political motive.