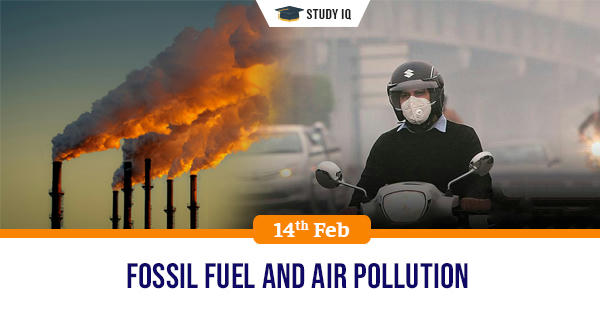 Fossil fuel and air pollution
Date: 14 February 2020
Tags: Reports & Indices
Issue
A new Greenpeace report has estimated the global cost of air pollution from fossil fuels at around $2.9 trillion per year, or $8 billion per day, 3.3% of the world's GDP.
Background
Globally, air pollution is estimated to cause 4.5 million premature deaths each year. This includes 3 million deaths attributable globally to PM2.5, which is one of the principal pollutants in northern Indian cities including Delhi.
Details
India is estimated to bear a cost of $150 billion, or 5.4% of the country's GDP, which is the third-highest absolute cost from fossil fuel air pollution worldwide.

China and the US are estimated to bear the highest absolute costs from fossil fuel air pollution, respectively at $900 billion and $600 billion.

Globally, PM2.5 is also estimated to cause the loss of 62.7 million years of life, 2.7 million emergency room visits due to asthma, 2 million preterm births and 1.75 billion work absences. The 2 million preterm births include 981,000 in India and over 350,000 in China.

Additionally, the report links approximately 350,000 new cases of child asthma in India to nitrogen dioxide, which is a byproduct of fossil fuel combustion.

Greenpeace mentions that many of the solutions to curb air pollution are also solutions to limit global temperatures from increasing beyond 1.5°C.

Phasing out existing coal, oil and gas infrastructure and transitioning to renewable energy is required to avoid the worst impact of climate change. In the absence of efforts to curb greenhouse gas emissions, the earth could warm by 2 degrees Celsius by 2050, cutting global GDP by 2.5% to 7.5%.

The financial cost of dealing with polluted air is the result of respiratory and non-communicable diseases, as well as an economic valuation of the years of life lost through premature death.
Compared to other pollutants such as ozone and nitrogen dioxide, the PM 2.5 leads to the greatest health impact and cost due to increased work absences, while nations with large populations typically have a heavier absolute cost burden.