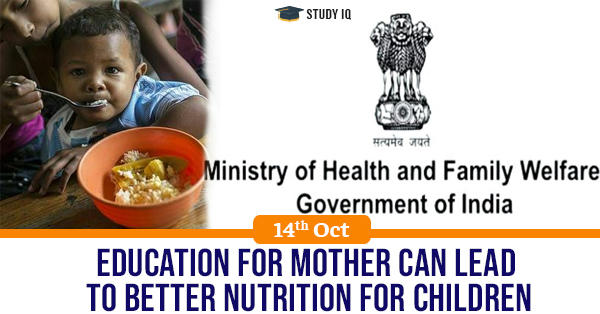 Education for mother can lead to better nutrition for children
Date: 14 October 2019
Tags: Reports & Indices
Issue
A pan-India study by Health and Family Welfare Ministry shows children received better diets with higher levels of schooling among their mothers.
Background
Diet diversity, meal frequency and minimum acceptable diet are the three core indicators of nutrition deficiency among infant and young children. They play an important role in improving health indicators in the population.
Details
The Comprehensive National Nutrition Survey (CNSS) studied 1.2 lakh children between 2016 and 2018 and measured food consumption, anthropometric data, micronutrients, anaemia, iron deficiency and markers of non-communicable diseases among many other factors.

The data was compared with different population characteristics such as religion, caste, place of residence and the mothers' level of schooling to find a common link.

It was found that only 11.4% of children of mothers with no schooling received adequately diverse meals, while 31.8% whose mothers finished Class XII received diverse meals.

The study also highlighted that 3.9% of children whose mothers had zero schooling got minimum acceptable diets, whereas this was at 9.6% for children whose mothers finished schooling. Moreover, 7.2% of children in the former category consumed iron rich food, whereas this was at 10.3% for children in the latter category.

Only 49.8% of children in the age group whose mothers did not go to school consumed dairy products, while 80.5% of children of mothers who completed their schooling did so.

Levels of stunting, wasting and low weight were higher in children whose mothers received no schooling as opposed to those who studied till Class XII.

Anaemia saw a much higher prevalence of 44.1% among children up to four years old with mothers who never went to school, versus 34.6% among those who completed their schooling.

On the darker side, higher level of education among mothers meant that their children received meals less frequently, perhaps because their chances of being employed and travelling long distances to work went up.

Such children were also at higher risk of diabetes and high cholesterol as more prosperity could lead to higher consumption of sugary drinks and foods high in cholesterol.